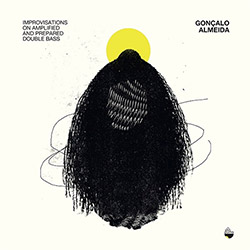 What at first seems fuzzy grows into a raw quivering mass of drone and metallic rattling, evoking a sprung mattress on a battleship in a squall. Goncalo Almeida wields his amplified double bass like some unknown thing discovered in an incongruous place. He brings lightning and thunder, machine guns and the ghost of Hendrix, erupting out of quivery breath. He's obviously spent much time exploring the ways in which his instrument and electricity can interact, and he slowly brings his discoveries to light in patient and slowly evolving improvisations.
Running the gamut from quiet tinkering to full-on feedback explosions and including some curdling spasms of a-melodic thrust, it's a primer of invention. If you didn't know what was stirring up these sonic storms you may not be able to guess just by listening. At times, like on "III" when Almeida moves quickly between distortion and clean bowing, it sounds like two people sparring. I think my favorite bit is "IV" with its grainy rumble and slow fade evoking massive steel cables twisting and straining. I wish it went on forever. "V" has dissonant harmonics laced with feedback, a nightmare version of Reveille to snap the company upright.
Maddeningly beautiful in all the right ways, this is one of those recordings that may put some listeners off with its seeming stridency, but stick with it and you'll be treated to a perfect example of what Cecil Taylor once called "that terrifying beauty". I'd love to hear this stuff live in a big room.
Comments and Feedback: