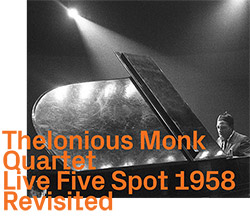 The history of jazz would have been much different had it not been for the presence of Thelonious Monk, a composer and pianist hors pair who was one of the architects of bebop and whose influence on modern and post-modern jazz is hard to overestimate. His compositions, which are characterized by an idiosyncratic sense of melody, rhythm and harmony, have been played by every jazz musician on the planet and stand as masterpiece miniatures.
It is a pleasure to get to hear previous incarnations of the Monk spirit in this re-release of some of the tracks recorded at the famous New York City venue, some of which has appeared in other albums, like Monk in Action and the Complete Live at the Five Spot. The current selection of nearly 80 minutes of music has plenty to bite into and contains some of Monk's most endearing and enduring compositions.
As a document of Monk's art, this is a solid example. Added to that attraction is the playing of Johnny Griffin who burns on all the tracks, lifting off from the launch pad of Monk's charismatic tunes and burning the ether with his inspired double time solos. Bassist Ahmed Abdul-Malik and drummer Roy Haynes hold down the fort with Monk while Griffin rants and roars. When Monk's turn to improvise variations on the tunes comes round, the contrast in conception is striking, but Monk is right in the pocket, unfazed by Griffin's alarming pyrotechnics, and he delivers some charming and, as usual, humorous and quirky melodic lines and off beat chordal punctuations.
The set of tunes opens with the deceptively simple "Light Blue" and includes Monkish titles that became standards, such as "Rhythm-A-Ning," "Blue Monk" and "In Walked Bud," but also some slightly lesser known tunes like "Coming on the Hudson," "Let's Cool One" and "Nutty," all played with the freshness that one expects of master musicians of this ilk.
Comments and Feedback: