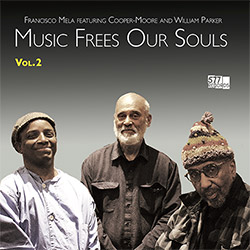 Cooper-Moore's accomplishments as a versatile multi-instrumentalist who can create notable music from devices such as the diddley-bow or hoe-handle harp sometime obscure his piano skills. An ingenious improviser in a free music lineage that includes Jaki Byard as well as Cecil Taylor, this trio session with fellow New Yorkers drummer Francisco Mela and bassist William Parkers showcases his invention and resourcefulness during two tracks of almost 21 minutes each.
While Cuban-born Mela is ostensibly the session's leader, by convention he functions as a supporting player, constantly adding energetic thumps, rumbles and press rolls plus cymbal and hi-hat clanks where they best serve the thematic interface unrolling from the piano keys. A long-time Cooper-Moore associate, Parker designs a comprehensive walking pulse to underscore the piano output and on "Mental Scenario" uses arco patterning for sympathetic support during more relaxed interludes.
Throughout, Cooper-Moore provides an object lesson in free music pianism, jumping from pedal point thumps to higher register tinkles; expressing himself with continuous glissandi, multiplied chords from forearm pressure, or precisely shaped single note evolution. As a two-handed stylist he also joins with Parker's string pumps to anchor the thematic evolution he expresses with contrasting dynamics and energetic elaborations. With torqued and repeated patterns on "Musical Literacy", the pianist shows how broken octave evolution can be expressed prestissimo. Establishing a moderato theme on the other tracks, shattering dynamics give way to plaintive note examination linked to Mela's understated rhythms. Furthermore, the pianist crams multiple notes and tones into every bar without suggesting freneticism and while preserving narrative flow.
Cooper-Moore may be first among equals here. But the integration of the others' contributions to the program makes this soul-freeing music that perfectly defines improvisational trio qualities.
Comments and Feedback: