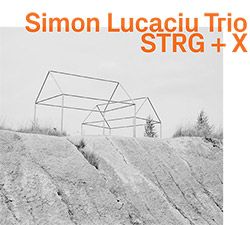 The members of Simon Lucaciu Trio are Lacaciu himself on piano, Florian Müller on double bass and Lukas Heckers on drums, all of whom were born in 1998. They met at the local music school in Plauen, Germany. The pianist and bassist had attended the same high school, and formed their first band when they were fourteen. The drummer was from nearby Oelsnitz, and teamed up with them in 2016. In 2017 they entered Jugend Jazzt, the nationwide German jazz competition for teenagers and young adults. By early 2022 the trio had won the Central German Jazz Prize.
Studio-recorded in Ludwigsburg, near Stuttgart, Germany, in April 2022, STRG + X is the trio's debut album. All eleven of its tracks are credited to members of the trio, one each to Müller and Heckers, four to Lucaciu, and five to the entire trio — often a sign that the pieces were improvised. Those five tracks open the album and, sure enough, they bear all the hallmarks of freely improvised music, with no introductory themes or unison playing but all three players reacting appropriately to each other's playing without copying; the titles of two of the five pieces say it all, "negotiation onE" and "nEgotiation two". By comparison, the six tracks composed by individual members of the trio sound less improvised and have noticeably more composed riffs; they complement the five opening tracks well and give the album a coherent feel.
As has been true for several years, the proliferation of piano trios does not make it easy for a new one to rise to the top. While Simon Lucaciu Trio apparently listened to and tried to learn lessons from such groups as the Brad Mehldau Trio, The Bad Plus and the Pablo Held Trio, they were eventually more influenced and inspired by the freer approach of the European trio Punkt.Vrt. Plastik and that of Canada's Kris Davis Trio. While the music on STRG + X bears traces of those influences, it also demonstrates that this trio are not copyists but have plenty of creative ideas of their own. On the evidence of their debut album, we shall be hearing plenty more of Simon Lucaciu Trio.
Comments and Feedback: