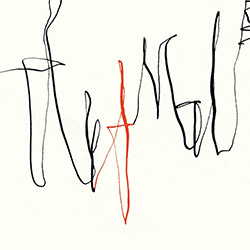 Veterans of Japan's thriving but mostly unexplored (by Westerners) Free Jazz scene, Tryangle's members maturely establish the twists and turn of in-the-moment improvisation on two extended tracks. Drummer Hiroshi Yamazaki, who has played with the likes of Evan Parker; alto saxophonist Eiichi Hayashi, part of bands with Aki Takase; and bassist Nobuyoshi Ino, who partnered Lester Bowie for a few years; temper their technique exploration with occasional swivels into melodic sequences.
Despite playing the quietest instrument, it is Ino's woody pizzicato pulses and spiccato arco slices which frequently direct the expositions. Accenting the sound evolution are Yamazaki's shuffle beats, conga-like hand slaps and cymbal pings. Meanwhile Hayashi's bent note strategy encompasses altissimo bites, inflated overblowing, tongue slaps and mid-range narrations. Ino invokes string popping spots at points, and Yamazaki demonstrates his rim rattle and paradiddles elsewhere. But the session's key is how effortlessly the three jointly project linear messages. Most instructively on the second track, reed triple tonguing is regularized by string stopping, while later the saxophonist's racing up and down the scale is framed by knife-sharp bass string jabs and drum rattles. Despite a subsequent tempo acceleration, percussive thumps and a pedal point bass line help Hayashi's clarion scoops project a distinctive rugged melody which showcases each individual while intertwining their contributions.
Contemporary Japanese creative music takes on many forms. Tryangle is a sophisticated instance of how to temper free forms with progressive horizontal evolution.
Comments and Feedback: