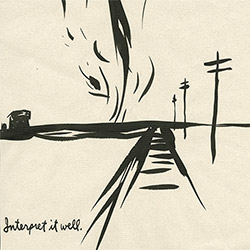 Percussionist Ches Smith leads this session, but it is really a full quartet effort that features Smith's trio with Craig Taborn on piano and Mat Maneri on viola, stretched to a quartet with guest guitarist Bill Frisell.
Frisell is known for many stylistic innovations and his gregarious and wide-ranging interests, so it is not surprising finding him in this context with a group of improvisers that share links to the contemporary creative music scenes. As an addition to what Smith identifies as a "road" band, Frisell is a perfect fit, and they seem to have shared aesthetics and compatible sensibilities as players and improvisers.
The seven pieces in this outing are quite different one from the other but have the similar quality of seeming to evolve out of minimal elements to become engaging sound journeys that are made up of the four strands spun by the musicians. The compositions by Ches Smith invite a wealth of creative input by the musicians. Smith's drumming, which can be rock solid groove as well as impressionistic and ethereal abstract renditions of time, is at the center of the title piece, in which Frisell rocks out of his usually introspective shell replete with feedback and saturated distortion.
The rhythm section is really Smith and Taborn, but everyone gels with the same rhythmic concentration that makes the sequence of pieces into an organic, cohesive whole with nary a cliché to be heard, despite some unsurprising vamps in spots. But the band is able to deconstruct such banalities into florescent stretches, as in the kaleidoscopic 15-minute piece called "Clear Major" as well as in three shorter pieces.
Maneri's playing is fibrous and textural and brings lines of interest while the band is plying its groove, and Taborn's weighty rhythmic sense syncs well with Smith's savvy and urbane figures and drive.
Comments and Feedback: