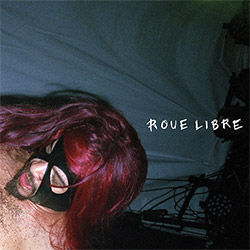 Roue Libre are a trifecta which consists of Richard Comte (vocals, bass and guitar), Quentin Biardeau (tenor saxophone and keyboard) and Theo Lanau (drums). A section of the terse and equally cryptic text that plasters the bandcamp page for Titanomakhia reads: "[W]hen nothing makes sense any more, trust in the balance of disorder." And the truth of this quotation is borne out in this album.
Titanomakhia consists of five tracks, the first of which is "Titanomakhia, Pt. 1." This song begins with decadent guitar chords being juxtaposed against some sickly, almost starving, ambient drones. After this, galloping rhythms slowly precipitate into the mix, all the while some saccharine guitar riffs try to beguile the listener. Then, as the petulant tenor starts to squeal and scream, some gruff vocals that ooze disgust attempt to control it. However, in response to this, the tenor only becomes more dysregulated. The sonic expanse that is this song concludes with a polyrhythmic deluge, whereby sets of dissonant guitar sequences take their collective turn to control the spitting, almost atavistic, tenor.
The three songs that follow "Titanomakhia, Pt. 1" are comparatively short, and they can be likened to some mid-album refreshments. In "Titanomakhia, Pt. 2," violent rhythmic fasciculations underscore shrill tenor arpeggios whilst stochastic bass grooves do their best to knock the track off its center. "Titanomakhia, Pt. 3" is different. Think of the introduction to Swans" "Oxygen" but even messier instrumentally. And "Titanomakhia, Pt. 4" is different again. Delicate guitar passages provide a welcome contrast to metallic sounding swells that shimmer as they loom ominously in the background.
Just as it began, Titanomakhia ends with another sweeping song. "Titanomakhia, Pt. 5" starts with angular rhythms jostling their way to the fore and being promptly admonished by some impassioned, snarled, vocals. Concurrently, sets of no-wave keyboards bounce energetically in the background, relishing the fracas. After this, some fuzz-ladened guitar chords diffuse throughout the mix to form a wall which the drums and the tenor can only ricochet off of. Perhaps fearing the worst, the tenor engages its flight response, whereby it gasps for air and shrieks for its freedom.
In Titanomakhia, Roue Libre manages to create a set of distinct sonic landscapes that somehow remain balanced through indulging and humoring their chaotic impulses. The musical equivalent of a circle being squared has been achieved. It is doubtful that the novelty of this will ever wear off; this record is simply too fun.
Comments and Feedback: