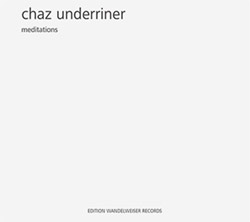 "Strike unbounded space and hear it reverberate, one being, all forms of being, one time, all times." So wrote the 13th century Zen Master Dogen, one of the quotations used by Chaz Underriner in this multi-movement but ultimately longform creation. Underriner conjoins Dogen with similarly transtemporal observations via the meditative sphere from Marcus Aurelius, his music effectively blurring those boundaries the meditator seeks to irradicate.
The enmeshing occurs almost at once and governs every aspect of the song cycle. As so often happens now, Michael Pisaro's Transparent City series offers a blueprint for the work's introductory five minutes, but instead of sinetones illuminating anonymous field recordings, two environments are juxtaposed. Aspects of each are emphasized, outside speech fragments and reverberant footsteps bespeaking the seamless shift in perspective with the naturalness of a breath drawn. When the instruments enter with cinematic elegance, they might at first be mistaken for another environmental sound. Chord and tone exist in the cycles of expansive repetition that constitutes a part, but only that, of the Wandelweiser legacy. Listen deeper to hear the minute intervallic adjustments, as on the exquisitely tuned intervals supporting the word "is" during the second piece. Listening again reveals that those two male voices have been coming closer and closer together for several minutes. Even those two converging vocal lines comprise a series of those time-points Aurelius describes; what a magical musical moment!
Environment changes throughout, an astonishing study in fluidity and morphing calm. The music often exhibits the lush harmonic intrigue of choral writing, especially in "Everything Harmonizes," but some fragmentation or other continually blurs that point-and-line boundary, just as the harmonies might almost imply tonalities until they simply do not. When angular moments of piano and percussion emerge, their often oceanic context gives them additional poignancy. A single piano pitch, mezzoforte, might be complemented by ebbing violin or a silence inviting reflection on the text just intoned. Even more traditional spiritual signifiers, like the Choral, are cloaked in the signifiers of post-Stravinskian harmony. The whole cycle is a wonderfully executed study in controlled ambiguity, a feast for the ears and for the heart, a journey through stillness never quite achieved. Don't be put off by what might appear to be a rather prosaic title. The music and texts are of a piece, and I could give this release no higher compliment.
Comments and Feedback: