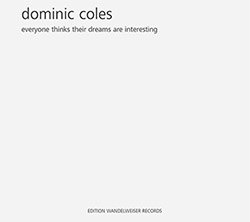 The editorial description for Everyone Thinks Their Dreams are Interesting, tells you only that the instrumentation involves synthesizer circuitry and computer processing. Beyond that, the six composition titles are amplified to report, presumably, the dreams at the heart of their genesis. As with the written explanations bolstering so many Wandelweiser projects, nothing is revealed while everything is revealed; the music follows suit.
To call this electronic music would be akin to invoking an adage only in part: "A house is not a home..." I have never heard electronic music like this, but I can imagine Webern writing it had he lived another two decades and absorbed some of the "reductionist" techniques he had an ironic hand in pioneering. Only dive into the decidedly non-fluid opening of the final piece, "There is a Large Ship Approaching," to glimpse the circuitous legacy. A blinding flash of what is superficially high-register squall cuts out as quickly as it bursts in, only it leaves nearly inaudible whisps and stains behind it, fragments of itself elongating and finally waving out of existence. OK, there's a little liquid, but it's poured over a granite silence. Who said all silence was the same? It is an instant of staggering intensity that speaks to the music's granite structures and angular intentions. "There's the Skeleton" calls itself to attention with squibs, bits and bobs before more of those piercing but really inter-registral squalls troll the ear, but then, rhythm? Are these repetitions? The succeeding chirps and braps fall into something approaching a line with as much negation of what I'd assume to have been their context as they deny any facile form or convenient categorization.
After a few listens with form, structure and contour on the brain, Webern seems like less and less a remote ancestor and more of a relatively close relation. This is music of stunning concentration, pointillistic diversity and some of the more sudden and dizzying dynamic shifts to pummel my speakers in quite some time. Most complex and difficult to verbalize are the silences, the Wandelweiser composer's prerogative and staunch ally. They don't connect as much as comment and silo. They foster neither reflection nor invitation but rather a minute-to-minute invigorating claustrophobia. They enhance what turns out to be one of the more unified timbral listening experiences ever offered under that way-too-broad electronic umbrella, a unity of diversities just disconnected enough to justify the album's title and its layers of contradictory implication.
Comments and Feedback: