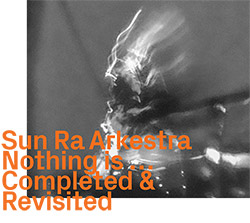 The matter of audiences for jazz and free jazz in particular has been a thorny issue since at least the 1960s, when the music was getting out to the Black communities, but in the wider society, the numbers favored white listeners and the message was not getting to the intended audience in quite the desired manner. Some of the raison d'Ítre of Free Jazz (aka, The New Thing) kind of got obscured as the aesthetics of the music was being appreciated but perhaps some if its intent and essence was ignored or downplayed. One is reminded of all this while listening again to the music of Sun Ra in the live setting of this rerelease of material recorded at St. Lawrence University in 1966.
The liner notes written by Brian Morton for this reissue vividly evoke the space-age context and thematic character of the Arkestra's music and its metaphorical meanings that relate to the fight for civil rights and the realities of Black lives in the USA. But the music also expresses something about the experience of collective improvisation, jazz orchestration and ensemble playing that was true to the Black Arts aesthetics. For Sun Ra's Arkestra it meant exploring out-of-the-ordinary sounds associated with the space age, but also drawing on the ancient palette of African music. Its eminent soloists, including Sun Ra with his spiky atonal piano, or tenor saxophonist John Gilmore with his searing tone, or alto saxophonist Marshall Allen and his sputnik-like sonic excursions, made statements that were revolutionary for their time but also stand as enduring moments in American music.
The essence of Nothing Is... is kind of summed up in the piece called "Outer Nothing," a 15-minute improvisation that celebrates the present moment and how it can be both one of void and plenty. The band goes crazy with melismatic heterophonic playing and a tumble of rhythm over rhythm, one of the best examples of the balance between composition, arrangement and improvisation out there. It is also full of humor AND pathos. Very few could pull that off like Sun Ra and his band. Those who were there for the ride were very privileged indeed. The rest of us can settle in and spin this disc to soak in the energy and transcendental vibes the band was able to channel that night.
Comments and Feedback: