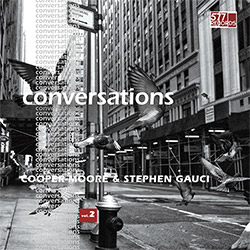 Following a long jazz tradition of in-the-moment duets, New Yorkers, pianist Cooper-Moore and tenor saxophonist Stephen Gauci, present the second volume of their series of erudite musical conversations. Now reconvened after a Covid-restricted hiatus, Gauci has been curating an improvised weekly series in the Bushwick section of Brooklyn for five years. Meanwhile multi-instrumentalist Cooper-Moore has been part of numerous significant affiliations for four decades involving everyone from David S. Ware to William Parker.
Reductionist but not reduced in ingenuity or imagination, the two move through the seven tracks with a combination of introspective breeziness and fortified intensity, testing varied strategies while reacting to each other's sonic impulses. Cooper-Moore can output formalist inflections, or on a track like "Improvisation Twelve" introduce multi-finger swing indistinguishable from Bop comping. Yet when exposed to the saxophonist's heighted multiphonics, smears and flattement he responds in kind. This is illustrated on tracks such as "Improvisation Eleven" and "Improvisation Thirteen". On the former, voluptuous introductory shakes and irregular vibrations from Gauci leave the pianist's chording unperturbed. It's then up to the saxophonist to make a place for his altissimo tone squeezes among Cooper-Moore's rolling stride patterns and reflective glissandi. More balanced and shaded, "Improvisation Thirteen" matches galloping piano clips with reed honks and extended skyscraper-high screeches. Then as the pianist rolls out a speedy waterfall of notes, confirming the timbres' percussive roots, lower-pitched saxophone honks and flatulent cries are blended into the climax. At other points on the disc the pianist reverberates tones off his instrument's soundboard and bottom planks to emphasize its woodenness and to create a context for Gauci's frequently crammed extended tone passages.
Among friends some conversations evolve in near whispers, others are shouted at the top of lungs. Featuring both modes of expression and many in between, Cooper-Moore and Gauci define profound communication here.
Comments and Feedback: