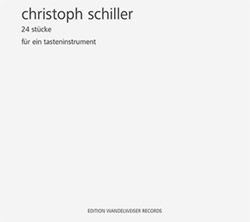 Born in Stuttgart, Germany, in 1963, Christopher Schiller studied fine art there and in Hamburg before studying piano and music theory in Basel. From 1987 onwards he played concerts of improvised music on piano, later preferring spinet. As early as 1993, Schiller recorded his first album, Mundraub (Hybrid Music Productions, 1994), a piano and voice duet with future Wandelweiser member Marianne Schuppe. By 1998 he had written "seestück" for choir, his first composition for Wandelweiser of which he too became a member. While he has an impressive array of album releases covering such prestigious labels as Another Timbre, Creative Sources, INSUB and Matchless, his only previous Edition Wandelweiser release was his 2016 solo spinet album Spinet.
The current album (its title translates as 24 pieces for a keyboard instrument) features all twenty-four pieces — ranging in duration from just under two minutes to just over three — which comprised Schiller's orgelbuch (organ book) portfolio; despite that name, they are all performed here by Ed Williams, on the very different sounding clavichord. The pieces are all similarly titled from the opening "Fuge in C" to the closing "Fuge in h" (remember that in Germany the key of B is called H while B flat is called B...)
Leaving such niceties aside, from the start it is clear that the decision to record the pieces on clavichord was an inspired one; the uncluttered, ringing sound of the instrument perfectly suits the compositions, allowing every note to be heard clearly from being struck to its disappearance as it fades away. Although the compositions are Schiller's alone, Williams merits equal billing for his exquisite renditions of them. The pieces make frequent use of pregnant pauses, allowing listeners to savour what has just passed while also generating a sense of expectation of what is to follow. Their relative brevity ensures that the pieces do not outstay their welcome but sound fresh throughout, revealing more with each repeat play. This is music which seems sure to stand the test of time.
Comments and Feedback: