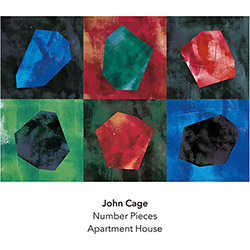 During the last years of his life, John Cage composed four dozen works which have come to be known as the Number Pieces, due to their titles. Another Timbre has collected thirteen of these works, ably realized by Apartment House, into a beautiful 4-disc boxed set. If you have any interest in Cage's work whatsoever, it would be well worth your time to investigate this collection. Accompanied by a booklet of informative and detailed notes, taken as a whole it's a completely immersive experience.
Though Cage wrote number pieces for ensembles of varying sizes, from one to over a hundred players, those on offer here all feature medium-sized groups, the largest being fourteen instruments. They generally call for held single notes or novel aggregates, the timing of which are left to each individual player. The mechanics of their working are explained very clearly, along with their history and a brief analysis of each piece, in the notes.
So what do they sound like? Most are characterized by floating scrims of sound, brought into being with very little discernable attack. So little in fact, that it's often difficult to tell just what instruments are being played. They seem to appear over time, in an unhurried manner, slowly amassing into fogs of what Cage referred to as "anarchic harmony", an ever-present co-existence of sounds. There is no thematic development and hardly any sense of forward motion here, though there does seem to be a kind of tension which never really resolves. On disc one it can be difficult to know when one piece finishes and another begins, other than by the addition of new players and new instruments. Neither of these is a bad thing, and it's fascinating to witness the myriad groupings of overtones as they rise and fall.
"Seven", in the center of disc two, shakes things up a bit with the first inclusion of a conventionally played piano, striking short-lived clusters in expanding and contracting time, while chord clouds billow up around it.
Much of the percussion employed throughout is of the decidedly exotic persuasion. You'll be excused for thinking you're hearing a bit of weather or some traffic sound seeping in from outside. The sextet for percussion on disc three brings many of these sustained sounds to the fore, creating a rich, sonorous sound field. On the same disc's "Thirteen", the last number piece completed by Cage, we get a rather different approach. The played notes move much more quickly than in the other pieces, and the pitch range is much more limited. This is not to say that it sounds any more hurried than its companions, it's just slightly more compressed. There is more information given over a shorter period, and the sense of overlapping loops is more readily apparent.
Having recorded and produced this set is an amazing achievement in itself, let alone that it was done during a world-wide pandemic with all of its corresponding restrictions and uncertainty. As it was not always possible to get all of the players together in one room, overdubbing of separately recorded parts was sometimes employed. You'd never know it from the outcome, every piece sounds like it was played live.
Cage often expressed a desire to make things which were "useful" in some way. These beautiful pieces of music may go a long way in helping listeners change their minds; about what constitutes music, or listening, or just what it is that music is for. Which in turn may help to change minds about other things as well. I'd like to wholeheartedly thank Simon Reynell and the members of Apartment House for making them available to an ever more troubled world.
Comments and Feedback: