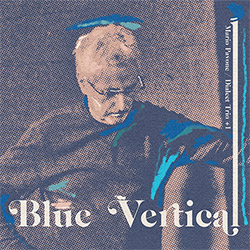 Bassist Mario Pavone here leads a quartet session recorded just a few weeks before he passed away on May 15, 2021, at age 80. It is a series of nine compositions that have the energy of hard bop, along with the exciting imaginative play of the best of the improvisational scene that Pavone was part of in NYC since the 1960s.
Pavone, a self-taught musician who had actually trained to be an engineer, is a skilled and prolific composer, and this CD documents the language of his work very nicely indeed. The musicians on the session are Pavone on bass, Matt Mitchell, piano, Tyshawn Sorey on drums and Dave Ballou on trumpet. The opener, "Twardzik," has qualities reminiscent of some of the free blowing and forward motion of some Woody Shaw sides from his creative early period, with Ballou playing cliché-free kinds of post-fusion lines and the glitchy punctuations of piano and drums, along with Pavone's ebullient bass lines.
Ballou's addition to the regular trio format Pavone often worked within adds a definite color to the proceedings. The muted trumpet on "OKWA" and "Legacy Stories" brings some other shades to the music, but mostly he plays open horn, with a propensity for very athletic lines that swing through the registers and are free from the kind of tricks and quotes that so many trumpet players go for. Here the language is fresh and original, even when at times the shredding veers off a tad technical.
The title track "Blue Vertical" is a study in the use of space and broad stokes of melody that is soothing to the ear, but most of the pieces from this session have strong compositional melodic and rhythmic contours fired up by the bass, drums and piano working as an impressively sympathetic unit chugging along with the best of any rhythm section you could name from the golden age of rhythm sections in the history of jazz.
This is a superb final offering from Mr. Pavone. May he rest in peace.
Comments and Feedback: