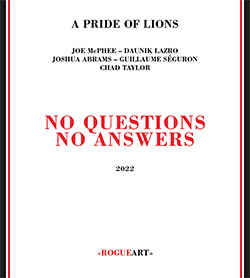 Blending the activities of mature creative music lions and ones older than cubs, members of this Franco-American quintet creates a meaty hunk of Free Jazz, with a rugged performance that is as ferocious as the Panthera namesakes are supposed to be. Growling expositions come from the two older musicians, who have often worked together. They're American Joe McPhee, 83, with inventions from alto and soprano saxophones and pocket trumpet; and Frenchman Daunik Lazro, 77, equally innovative on tenor and baritone saxophones. Alongside are Americans, Chad Taylor who plays drums and mbira and Joshua Abrams on bass and guembri, plus French bassist Guillaume Séguron, all of whom are several decades the saxophonists' juniors.
Not that age means anything after Abrams' measured bass vibrations set the pace at the beginning, Taylor adds a few rim clanks and the polyphonic free-for-all is joined by everyone. As the bassists' string pulse preserves the bottom and the narrative is colored with the drummer's rim shots and ruffs, McPhee and Lazro spread their timbre hunting into sonic territories more expanded than the savannah in which lions would roam. McPhee's nephritic trumpet digs create emotional resonance while scissoring harsh tones and portamento whistles into the mix. Lazro's reed incursions advance in a similar splintered fashion. But even as he's projecting altissimo screams and fragmenting vibrations, dynamic flow and linear motion remain. Strangled brass yelps meet dissected reed tonguing at points, then when McPhee turns to saxophone the unearthly yowls and smears from both create Energy Music at its most dynamic, but with the additional horizontal connection that come with maturity. With pulsating thumb piano plinks and three-string bass strums added for color at points, unbearable heaviness is avoided even as the bassists' string sawing and the drummer's accented ruffs pace the tracks.
This band is as aggressive, but more dynamically nuanced than the vigorous habits of any pride of lions. Yet the manner in which this quintet extracts, multiplies and melds feelings from this tumultuous engagement suggests the pride adjective is as descriptive of this session as its use as a noun in the band name.
Comments and Feedback: