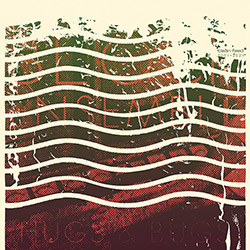 Block Ensemble is a big unit with some big names: Maja S.K. Ratkje and Stine Janvin Joh on vocals, Britt Pernille Frøholm on hardanger fiddle, Didrik Ingvaldsen on trumpet, Mette Rasmussen on alto saxophone, Lene Grenager and Tanja Orning on cello, Jasper Stadhouders guitar, kologo and mandolin, Mats Äleklint on trombone, Nils Henrik Asheim on organ, Frode Haltli on accordion, Ingebrigt Håker Flaten on double bass, Per Zanussi on double bass and Dag Erik Knedal Andersen on drums. If you are privy to the Scandinavian scene, at least a few of those musicians — Ratkje, Stadhouders, Zanussi, Flaten — will likely stick out to you.
Despite this, Block Ensemble has a surprisingly small sound. Or, maybe it is just not a loud sound. There are no stentorian declarations or grandstanding. Rather, the horns tend back as the strings and percussion drift forward to achieve a surprisingly consistent sonic balance. Each instrument, or what seem to be clusters of instruments, gets it moment, but these moments are ripe with potential energy that crackles beneath the surface but never fully ignites. The vocals stand out at points, but even then, unintelligibly, in gurgles, cicada buzzing, and slobbery scatting. And, they rarely intrude on the subtle spaces carved by the rest of the collective.
Hugs and Bugs is the brainchild of saxophonist Kristoffer Berre Alberts, who does not actually perform on the album. During the Covid quarantines, Alberts reached out to some of Scandinavia's finest, who recorded improvisations in isolation from each other. Each track was then combined with the others and mixed by noise-god Lasse Marhaug. This is a curious process, and the result is a curious album. Although the album's two tracks — "Hugs and Bugs" and "Bugs and Hugs" — are improvisations, they sound much too coherent for that. The liner-notes stop short of claiming Alberts "composed" anything, but there must have been some direction or visual or something that guided these discrete elements toward balance.
Even with this type of slow-burn, understated ensemble work, however, balance does not imply some sort of staid symmetry or monotony. Much of the power of the album comes from its juxtapositions: friction combined with ghosts of folk melodies; creaks and jarble combined with winding string contortions; buzzsaw strings and insectile scatting; acoustic motor sounds and glittering but torqued strings; swarming clatter collapsing into somber bucolic phrases. The normative state of both tracks seems to be disarray, sometimes soft and sometimes abrasive. Elements of warmth nevertheless slip through the discord from time to time, making for some pensive and even plaintive moments. Hugs and Bugs achieves a strange arrangement of sounds and an intriguing but relatively restrained (though hardly conservative or conventional) product, especially considering the more confrontational work that many of these musicians have produced in the past. Then again, maybe this is confrontational in a way different from louder and more aggressive sessions. This is a sizeable ensemble that produces a harnessed yet unvarnished sound that is much, much more (and more compelling) than its detached origins might suggest. This is an interesting work, that might take a couple of listens to get. Once the listener does cross that aural threshold, however, Hugs and Bugs is grating and gripping and delightfully perplexing.
Comments and Feedback: