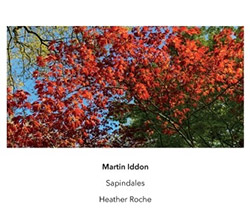 Remarkably, Sapindales is only Martin Iddon's second album release in his own name, the first having been Pneuma (Another Timbre, 2014) some seven years before, although he has contributed compositions to other people's album, one notable example being Canadian-born clarinettist Heather Roche's Ptelea (Huddersfield Contemporary Records, 2015). Such a skeletal discography is particularly surprising given that Iddon has a long list of works stretching as far back as 2006, and an equally extensive list of performances of his compositions from 2011 onwards. In his defence, it is only fair to point out that Iddon is Professor of Music and Aesthetics at the University of Leeds and has written such academic books as New Music at Darmstadt (2015), John Cage and David Tudor (2015), John Cage and Peter Yates (2019) and John Cage's Concert for Piano and Orchestra (2020).
Where three of the five tracks on Pneuma featured voices, one of them having five voices plus glass harmonica, only one of the four tracks on Sapindales includes a voice - "Muses" (2017), a duo between Juliet Fraser's voice and Heather Roche's clarinet. In fact, all four of the Sapindales tracks spotlight Roche to the extent that the CD front cover gives her equal billing with Iddon. As well as "Muses", she is featured solo on "Ptelea" (2014) playing bass clarinet, and on "Tu as navré" (2010) in a trio playing bass and contrabass clarinets with her Apartment House bandmates Anton Lukoszevieze on cello and James Opstad on double bass. Finally, she is heard alone on clarinets for the album's 2020 title piece and longest track, on which she is occasionally accompanied by field recordings of birdsong made by Iddon in woodland near his home.
Iddon wrote the two solo pieces for Roche. He has said of "Ptelea", "although it sounds like a normal(-ish) solo piece, the notation is actually a polyphonic one; the clarinettist has up to four different lines to play at the same time, all of which are given in the form of glissandi. That's quite impossible, but the clarinettist is asked to retain as much of this information as possible..." Listening to that track and others, it is to Roche's credit that one never hears any traces of such complexities, and the flow of music is uninterrupted so that all four tracks feel like they belong together. In fact, Iddon's compositions and Roche's performances of them sound as if they were made for one another. Based on this evidence, we must hope that this collaboration will be repeated in future albums by the pair.
Comments and Feedback: