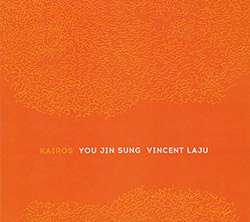 On available evidence, it would seem that many instruments found in other countries' traditional music lend themselves to "western-style" improvisation quite readily. Here we are given a great example of this in the paring of You Jin Sung's gayageum and Vincent Laju's cello.
The gayageum is a Korean zither, most similar to the Japanese koto, found mostly in duo performance with a percussionist. The only other example of its use outside tradition that comes to mind is on the Henry Kaiser/Sang Won Park/Charles K. Noyes album Invite The Spirit On that record there was a definite attempt to mesh western and eastern modes of improvisation, making for a fine hybrid.
Kairos is a different beast altogether, being less idiom-based and a bit more open ended. Sung uses electronics to extend and alter her string sounds in subtle ways. There is much brittle string pluck and thrum, lots of burr and buzz; imagine a bicycle wheel spinning with a tongue-depressor against its spokes; soft harmonics with breathy bowings; pointilistic miniatures in carefully chosen settings, a display of fine jewelry. There are other instances wherein chordal repetitions back melodic wanderings. The timbres here are gorgeous, complimenting each other nicely. Ebb and flow figure prominently, both players slowing and quieting and finding springboards and foils anew. The sound of surprise indeed.
Comments and Feedback: