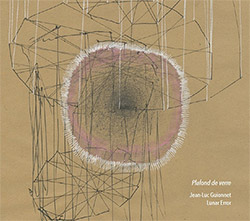 Concerned with applying the widest palate of sonic colors to his multi-sectional composition, French alto saxophonist Jean-Luc Guionnet turned to the 11-member Lille-based Lunar Error ensemble for acoustic and electronic coloration on this suite. Although a long-time member of the reductionist Hubbub quintet, Guionnet's Plafond De Verre takes full advantage of the expanded textural range available from the band's three reeds, three strings, two percussionists, plus piano, computer and synthesizer. Meanwhile, at the same time as the 12-part narrative meanders on its way, there are almost as many interludes of quiet or near silences as purposeful drones, vamps, rumbles and thwacks at various volumes from band members.
Built up in sections, quiet introductory sequences eventually give way to distant string squeaks, single piano clips and marimba pops underlaid by undulating voltage motifs, then an increase in volume when the pianist sounds the melody. Eventually a near flat-line electronic ostinato preserves modulation until it reflects back onto bow scrapes, woody clanks, tick-tock percussion and formalist keyboard patterns. The paradigm shifts during the seventh sequence as the united ensemble erupts into a crescendo of harsh, torqued and bellicose variables with thunderstorm-like loops of overlapping noise and concentrated power. Abruptly descending to near silence, an undulating organ-like tremolo then confirms the symmetry between swirling electronics and widely separated acoustic interjections that include bass clarinet lows, saxophone tongue stops and mallet reverberation. Latterly a second sonic tsunami unleashes waves of screeches and pulses for a climatic expression of the highest ranges of both electronic and acoustic instruments. The final sounds heard after the resulting silence are faint wooden clanks.
Plafond De Verre translates to glass ceiling in English. While Guionnet may not have had to break through any glass ceilings to have his composition played, this close-knit ensemble demonstrates how shattering and reconstituting thematic shards in performance results in a distinctive creation.
Comments and Feedback: