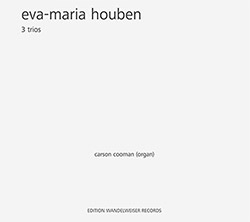 The first thing that might cross one's mind when delving into this wonderful set of music from Houben is, "The titles are 'trio I', 'trio 2' and 'trio 3', but the pieces are for solo church organ (performed by long-time interpreter, Carson Cooman). What gives?" When asked Houben explains, "It is simply, one hand: 1; the other hand: 2; the feet: 3".
Indeed, listening to the music, it seems to be the case that one consistent characteristic is that at any given moment, there are, at most, three notes in play (often, one or two). As with most of Houben's music, the dynamic level is low, though not extremely so and the tones are held for relatively long period though, again, not so long as one might think, generally between about three and ten seconds. Given these parameters, the depth and complexity and, for me crucially, the emotional resonance that Houben is able to achieve is breathtaking. Something about the tones chosen, their relative dissonance couched in the softness and almost plushness of the organ sound acts as a kind of mental stimulus; the music is less "comforting" than gently prodding and probing. One can derive all manner of imagistic notions; I found myself thinking of being patiently accompanied through old, rough-hewn passages, perhaps church catacombs, the texture of the walls initially seeming uniformly grainy but, on closer contemplation, revealing all manner of detail include obscure figuration. In fact, there are moments now and then, where the organ tones combine to resemble something approximating a "traditional" hymn, just for a few seconds, before moving on.
That tension between stasis and event is fully in force throughout the three works, providing a marvelous and unique sensation, one as difficult to describe as, for example, a "blank" wall in a Vermeer, but just as entrancing and fulfilling.
Comments and Feedback: