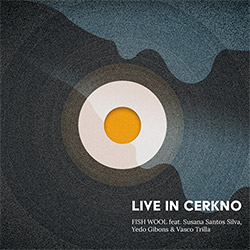 During a performance at this Slovenian jazz festival three innovative innovators from three different countries melded tones from three instrumental families to create an uncommon program that highlights communication as well as extended techniques. Spanish drummer Vasco Trilla, Brazilian tenor and soprano saxophonist Yedo Gibons and Portuguese trumpeter Susana Santos Silva have played with a cross section of international sound explorers in varied configurations. In this meeting they adeptly confirm that basic swing and tonal expansion aren't mutually exclusive.
Dynamically, the trio starts off in energetic high spirits on "Rainbow Trout", the first of four Ichthyology-titled tunes and are hooked into that vibrating fishing line for the remainder of the disc. As Silva's extensions encompass portamento smears, half-valve effects, speedy triplets and even on "Grayling" some Donald Duck-like spittle-encrusted squawks, Gibons' expositions touch on pinched Energy Music-like slides, whistling reflux from within the horns' body tubes and fragmented doits and snorts. With soprano sax flutters in double counterpoint with the trumpeter's grace notes, Gibons and Silva create a carefully modulated concluding statement on "Northern Pike". Their circular reed breaths and brass shakes, even when played staccato, confirm the compromise between melody and rhythm. Trilla's intermittent bell tree slaps contribute to that track's relaxed mood. But elsewhere, just as the trumpeter can bugle an accelerated fanfare and the saxophonist can create a bagpipe chanter-like doubled drone, the drummer often outputs a rhythmic groove that can include beats ranging from tough ruffs and rat tat tats to elevated clattering on rims and cymbals, sometimes accompanied by Gibons' sympathetic key percussion.
Fish Wool is only one of the trio members' many projects, but Live in Cerkno affirms that this exercise in musical surf and turf should be served up frequently.
Comments and Feedback: