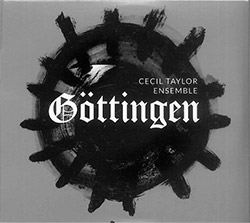 This massive two-set performance took place in Gottingen, Germany on September 15, 1990, two years after the astonishing series of events documented on FMP's mammoth Cecil Taylor in Berlin set. It featured a disc somewhat comparable to this one in that Taylor led an ensemble comprised of many of the same musicians heard here, but the scale is entirely different. While Legba Crossing comprised less than 50 minutes, Gottingen's two hours and change allows proceedings to unfold more slowly and in more depth, affording immersion into the juxtapositions of glacial slowness and blazing speed that the best Taylor concerts entail.
The opening of the second set provides a taste. Like Garden, there is a ritualistic quality to what transpires, a rapt feeling of entry, of mystery and of their conjoining, but while that venture was solo, the whole is magnified, as if transported to another dimension. Voices merge, diverge and roil, especially Taylor's, amidst the corporeal percussion so much a part of his latter-day aesthetic. At around the six-minute mark, tones begin to emerge, coalescing into a motive-driven melody nearly ten minutes in. The temporal sweep to this point would be Romantic were it not for the Shamanistic groans and cries pointing the way toward other traditions. A trademark of Taylor's ensembles is the way those melodic fragments recur, a trait heard back to the 1960s Blue Note albums and even beyond that, the building blocks for a compositional style in which the boundaries separating the fluid and fixed lose relevance. Vast dynamic arcs and timbrally intricate plains converge with the natural certainty of experience as the percussion-heavy ensemble emphasizes the expansiveness of Harald Kimmig's solo. Similarly vast tracts of collective improvisation spur on the first set, though the polyphonic elements come to the fore more quickly and with a greater vengeance. As with so many Taylor compositions, gorgeous synchronicities skew perceived temporality, like the intertwining saxophone lines encircling each other beginning at 15:26 and drawing attention to the drone present nearly from the outset.
Through, around and underneath it all, guiding, punctuating and delineating proceedings, is Taylor's piano. Even in the first set's furious climaxes, it percusses and permeates, vanguarding the harmonic ambiguities the other instruments imply. It cements and seasons by turn, and to attempt further description would be to underserve the concert's gargantuan scope and import. This one may not be for Taylor newcomers, but, already knowing what to expect, fans of his larger ensemble works will find much to savor and new territory to explore.
Comments and Feedback: