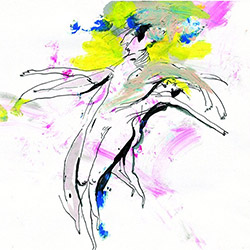 A couple of short live sets from Chris Pitsiokos' electric unit, comprised of Sam Lisbeth on guitar, Henry Fraser on Bass, Jason Nazary on drums and electronics and Pitsiokos manning alto sax and electronics. These are mostly very high-energy compositions with mind-bogglingly intricate unison "heads" which flow into adept group improvisations and thoughtful solos.
The opener, "Once Upon A Time Called Now", let's you know what you're in for. A short sax/drum intro presages the first of those unison passages that seems to erupt at just the right moment. The sound of surprise amped up to eleven. "Sybilant" begins more ethereally, with string drones and soft bombs, electronics seemingly peeking through from another era; Ornette meets Babbit. A mid-paced stop/start rhythm pops up, tripping funkily beneath Pitsiokos' sweet lyricism and some wiggly guitar. The band seems able to stretch their playing in multiple directions depending on the whims of whoever is soloing or leading at any given moment, elastic exercises in group-mind which are quite thrilling. "The Tower" features a maddeningly loopy melody which gradually loses notes over a muscular, propulsive rhythm section. How these guys keep their places in the midst of everything is beyond me. "A Knob On The Face Of A Man" is perhaps the most Coleman-esque melody on display, a sing-song playground taunt that keeps coming around to nag you between blistering solos.
Not quite Prime Time, but in that tradition certainly, and more so as the disc spins on. I also detect a bit of Anthony Braxton in the alto solos and in the way the compositions are structured. A bit of Dolphy in there as well. Electronics are used sparingly, but to great effect, especially on "Dirt is The New Clean", turning Pitsiokos into a chorus of reeds. If you'd like to get an idea of this band's power, there are videos all over the internet. Careful, you might get hooked.
Comments and Feedback: