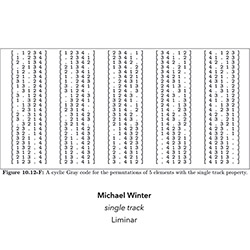 Single Track is the result of Michael Winter (who acts as the composer) combining with the experimental ensemble Liminar. The inspirational basis for Single Track was Winter's desire to create a piece of music that illustrated all the possible ways of articulating a 6-note chord with 7 instruments. However, rather than being an aleatoric and unbound articulation, this piece was to have two conceptual constraints. Firstly, the timbral change over the duration of the piece would be minimal. Secondly, each instrument would mimic the instrument that occurred prior. This mimicry could be either an exact replication of that prior instrument's rhythms or a transformation of that prior instrument's rhythms. In Winter's words, the voices would be "...cyclic shifts of each other."
To actualize this concept, Winter turned to the computational notion of a Gray code (which is an encoding of numbers such that adjacent numbers have a single digit differing by 1). The existence of Gray codes showed that Winter's proposed morphological constraints could be adhered to. However, Winter was not interested in the modal flavor of these morphological constraints. Winter, rather, wanted to find a way of concretely realizing these morphological constraints. After much scouring, Winter found "...a computational method that matched verbatim all the morphological constraints that I originally intended..." It is this computational method that provides the skeleton for Single Track.
Single Track consists of one track (shock). Efflorescent strings signify the beginning of the sonic tapestry, twisting and turning in total jubilation. Then, a lower register string instrument joins, which attempts to mimic the lively and fervid. Yet, despite its best efforts, it always lags because of its baritone and cumbersome nature. Here the listener sees Winter's "cyclic shifts" in play. Wispy and raspy woodwind instrumentation then enter, juxtaposing the voluptuous and thick tones of the layered string instrumentation. The computational and calculated basis of Single Track facilitates subtle and tender progressions. Emulating a late Talk-Talk song, instruments surreptitiously slide into place. After a series of nuanced mutations, the track becomes a polyrhythmic deluge; sets of individual rhythms all coalesce into a pulsating morass. Islands of staccato and legato rhythms interplay and converse.
Yet, after this rhythmic apotheosis, a prolonged denouement begins. This denouement is an unintended consequence of the idea behind the song itself. The computational method that Winter found had a quirk: for the morphological constraints to be adhered to, when each successive voice enters, the prior voices slow down. This consequence, albeit an unintended one, creates a totally sui generis listening experience. These calculated sonic decelerations and incremental changes are inconspicuous. The listener only becomes cognizant of these alterations and transformations when it's too late. After certain progressions and mutations, I found myself asking the question that David Byrne asked during 'Once in a Lifetime': "how did I get here?"
Once lively rhythms begin to mature and age. The sedative brass instrumentation quells the strings such that they become overtly contemplative. Pensive thought replaces paroxysmal explosions. Eventually, the strings are sedated sufficiently; they morph into the brass instrumentation, constructing vast compositional swells. Overcome by age and fatigue, instruments begin to drop out. The denouement is concluded by a lonesome viola. The final then rhythm ceases.
Single Track represents a mathematization of sound. It undercuts the pervasive belief (a belief which I have expressed before) that art is vitally singular, and ipso facto resists theoreticization. Through Single Track, Winter and Liminar show that the sonic and the mathematical are coextensive. Beyond being coextensive, these two domains can — when fused — create a totally singular and unique listening experience.
Comments and Feedback: