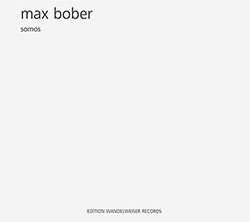 Max Bober is an Argentinian-born composer currently residing in Poland. Somos, a collection of four compositions, was recorded in Warsaw between 2018 and 2019 and released at the end of 2020. On it, Alejandro Peña Gutiérrez (piano) performs Bober's duo "Moleskine" 3 and 4 (tracks three and one respectively). On "Somos - Trio 2" (track 2), Alejandrina Vázquez (soprano) and Francisco Rojas (flute) join Gutiérrez. On "Somos Trio - 1" (the final track) Clara Peláez Hidalgo (flute) and Natalia Jarosiewicz (soprano) accompany Gutiérrez.
Gutiérrez's realizations of duo "Moleskine" 3 and 4 (tracks three and one, respectively) are brilliant. In true Wandelweiser tradition, the compositions and performances are deliberate and brittle, yet also lyrical, as if Morton Feldman (of course Feldman!) adopted the languorous melodicism of nostalgic movie soundtracks and slowed it to quarter-speed. Both pieces play with the contrast between sound and silence and, in the process, highlight those many moments when lone and parallel tones emerge, muddle, and dissolve. This approach is forceful enough in itself but shows its real potency when the volume suddenly leaps, as happens halfway through duo "Moleskine 4" to jarring effect. Hereafter, the piece falls into an emotive progression of rising and falling piano chords and a simple four note melody which is drawn out to extinction. These vignettes are brief, clocking in at under four minutes each, and are that much more effective because of it. They make their point and draw it out just enough to scintillate but not enough to stretch it thin.
"Somos Tri" 2 and 1 are somewhat fuller, though they manage to maintain the gradualism of the "Moleskine" compositions despite their larger sound. Vázquez's plaintive incantations are stunning, complementing the distant and sparse tones with a fragile and ghostly humanity. Her voice is just as patient, and just as sparse as Gutiérrez's piano and Rojas' flute, and weaves together with them majestically in a sonorous and slowly winding 11-minute eclogue. Whereas "Somos Trio - 2" sounds longingly pastoral, "Somos Trio - 1", clocking in at just under 10 minutes, comes across as a more abstract exploration of layered pitches and tone decay. The melody is still there, and it patient and ploddingly comes to realization. However, the interaction between the musicians (here, with Hidalgo on flute, Jarosiewicz on soprano and Gutiérrez again on piano) is more focused on doubling and dramatic incremental development than the comparatively blustery phrasing of no. 2. Both pieces remind me of some blend of modern gradualism and the first ethereal whispers of Gustav Mahler's "Ich bin in der Welt abhanden gekommen," alternately harmonious (if also stretched and bent) and haunting.
Max Bober and these five musicians are really onto something in these pieces, which balance the lowercase tendency toward quiet with progressions that at times are achingly dulcet. Somos is admittedly brief, totaling just over 25 minutes, but sometimes that is enough time. And, if the result is strong enough, as it is here, those 25 minutes compile with repeated and back-to-back listens. Indeed, this is some of the best and most accessible music from the Wandelweiser collective I have heard in a very long time.
Comments and Feedback: