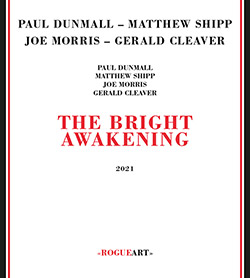 Vision Festival 17, in 2012, yielded this concert released on RogueArt earlier this year, uniting the talents of four like-minded master musicians, players with drive and with very big ears! One track clocking in at 56:34 is the sole content of this album. The whole thing is one hefty free music session where the musicians delve into the material they each spin out, developing into an engaging marathon piece called "The Bright Awakening."
This meeting of musical minds in the space opened for improvisation by the New York festival of creative music involves Paul Dunmall on tenor sax, Matthew Shipp on piano, Joe Morris on double bass, and Gerald Cleaver on drums. The music roars like a lion, as the band is unleashed after a concise introduction as being "the third set of the evening." Dunmall plunges into a fiery fury of notes all corroborated in a swirl by Cleaver, Morris and Shipp. The insistent rhythmic pulse morphs into polyrhythmic tumults of sound, punctuated by Shipp's block chords over a tightrope of bass and drums, all jagged and swaying, teetering, careening. This goes on for quite a while, but the tension slackens and the band dynamics allow more space as sax and piano interweave melodic ideas of symphonic proportions, and bass and drums have their say.
It is this kind of sensitive yet forceful meeting of mature musical minds in extended free improvisation that makes the creative music experience so satisfying. You can hear the many layers of their vocabulary in the service of a visceral present reality rooted in the music of the various influences of all involved, not the least of which is the funky grit of someone like Johnny Guitar Watson, whom Dunmall toured and recorded with early in his career. As for Shipp, Cleaver and Morris, they bring the richly nuanced New York Creative Music sound, which has filtered so much amazing music to our ears.
As Morris observes in his liner notes, "the open form collective performance that builds itself on pitch, melody, rhythm, energy and rich, deep expression is an enduring one," and this set is convincing evidence of the power of Free music. Morris also identifies aspects of the process succinctly: "Identifying structure in sound in the micro to macro sense and deciding how to proceed while doing that is the explanation of our musicianship, our skill set." This open-form, real time composition is rich with orchestral conceptions and has the rhythmic drive of a Khachaturian or Shostakovich, not to mention the obvious aspects of the approach as set out by precursors like Cecil Taylor, Albert Ayler and so many others.
Comments and Feedback: