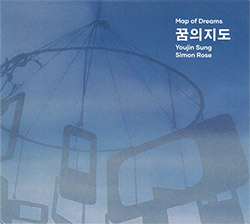 A cross-cultural East-meets-West duo project, the sounds on Map of Dreams still evolve without a touch of exotica. That's because the charts being followed don't depend on terrestrial geography but are firmly rooted in improvisation. Product of Berlin's fertile scene for exploratory sounds, the disc links British academic and baritone saxophonist Simon Rose, who has played with the likes of Steve Noble, with Korean gayageum player Youjin Sung, a member of the Asian Art Ensemble. A 12-string zither, the gayageum player uses both hands to change pitches while other strings are plucked. The unique timbres that result means that at points Sung seems to be playing a guitar, a double bass, a dulcimer or a banjo.
Not that Rose's output is wedded to conventional reed output either. Opening "Pandora", the first track and onwards, it appears as if many timbres could be vibrated from either instrument. Then a subterranean blast during the introduction clearly identifies reed overblowing as concentrated scrapes across the entire string set reveal gayageum textures. Soon afterwards though, Sung's string clips and twangs push into banjo territory, though any Bluegrass allusions are swiftly dispelled by atonal reed buzzes and snarls. That paradigm is followed throughout the disc. Rose's multuphonic command means that whiny altissimo split tones are heard as frequently as floor shaking bellows, with the scoops and squeaks sometimes following one another by split seconds. Similarly string strums or saxophone pumps are equally capable of creating a paced continuum so that the other player can stretch timbres still further.
Although the interaction between the two can be as fast and furious as anything in which Michelle Rodriguez and Vin Diesel are involved in cinematically, the session has quieter moments as well. "The Place where the moonlight stays" and "Tomb of the waterbird" for instance introduce restrained melodies and intermittent asides; although both eventually inflate to reed bites and tongue slaps plus concentrated string strums.
Overall the key to this CD's achievement is that the players are agnostic in terms of influences, sticking instead to the flexibility offered by unfettered free music.
Comments and Feedback: