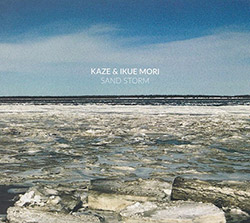 Sand Storm is an evocative title for this set, as the whirling trumpets of Natsuki Tamura and Christian Pruvost great listeners on the first track with a gritty fanfare along with Ikue Mori's ethereal electronics, Satoko Fujii's expressive piano and Peter Orins' polymorphous textured drums, taking them through a 64-minute soundscape voyage.
Hearing these musicians in action, one is struck by the daring creative efforts. Tamura and his wife Fujji have sustained a longstanding professional relationship that has yielded many projects, this being one of the latest, in which the fearless aesthetic is always clear: use your imagination and your ears. Sound exploration is the imperative, the only boundaries being the limits of the instruments, and even those are continually pushed, as scrapings, wind sounds, clicks, vocal gesticulations and whatever means necessary are employed in the attempt to shape sonic canvases, electro-acoustic structures that are as intriguing as they are compelling.
The seven tracks here have enough variety to keep listeners stimulated, with four long pieces that show a story-like development of ideas, and three intense shorter tracks, little bursts of sonic miniatures in between the larger narrative of sound. Particularly gripping is the piece called "Kappa" which starts off forcefully, but drops into a two-trumpet feature where Tamura and then Pruvost have extended solos of a subtle, articulate and perspicacious nature. Also noteworthy is the 12-minute "Noir Poplar" that unfolds like a concise cinematic tale, developing poignantly through the many strands woven by these creative musical spirits.
Satoko Fuji's insistent piano figures punctuate many a passage and Tamura's vocal exploits of a playful nature, found on previous releases like 2004's solo CD KoKokoKe, are all part of the blend of musical voices that include the electronic wizardry of Ikue Mori, the guest on this session, and Peter Orins' drumming, which, it should be noted, is of a very understated and melodico-textural variety. He blends into the tracks so chameleon-like that you don't even realize there's a drum set at work, so enmeshed are his sounds into the overarching electro-acoustic symphony that Kaze purvey so well.
Comments and Feedback: