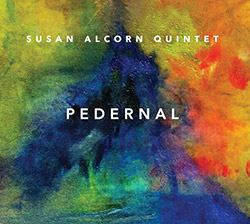 In Pedernal, the pedal steel guitarist Susan Alcorn is accompanied by four other musicians, those being: violinist Mark Feldman; double bassist Michael Formanek; guitarist Mary Halvorson; and drummer Ryan Sawyer. The pedal steel guitar is synonymous with country music. The glissando notes endemic to the pedal steel guitar — and the steel guitar — are archetypal features of country music. Alcorn's playing, however, allows this instrument to wriggle free of this pervasive typecasting. In Pedernal, this instrument is placed into the sonic contexts of ambient, and maybe even post-rock (at least to my ears). And yet, the instrumentation that forms Pedernal does not feel as if its glued together in some ad hoc fashion. This album is one of exploration that preserves sonic cohesion and contiguity.
The first and eponymous track "Pedernal" gets its name from the Spanish equivalent for 'flint.' In 2001 Space Odyssey, there is an infamous scene where a monkey discovers that a bone can be used as a club. The monkey recognizes the "readiness-to-hand" of the bone. I like to think of "Pedernal" as depicting the conflicts between our ancestors after recognizing the "readiness-to-hand" of flint (I.e., that flint serves as both a weapon and a tool). Alcorn's musings scatter over the undulating and untouched hills, which are emboldened by Feldman's torrents of subtle strings. Paroxysmal flurries and fasciculations ooze in and out of the idyllic scene, hinting at some incipient conflict. These tensions are then realized: atonal slides intertwine with Sawyer's percussive quagmire and become reified. Just as soon as this conflict arrived, there is a moment's pause. Some hushed swirls escort us from the scene.
Sawyer's scant and sparse percussive movements adorn the beginning of 'Circular Ruins.' Alcorn's pedal steel guitar enters and continues its pensive deliberations, with Formanek's chords providing food for thought. Just as before, sonic spasms crawl along the landscape like some miasma. The track then descends, reaching its nadir. This sonic stagnation is broken only by occasional swells of minimalistic hums. This paucity coaxes Feldman's reticent violin into mournful song. However, these solemn arpeggios go unanswered. This song is met only by an insidious and beguiling ambient swell. An instrument has never sounded so lonely.
The first moments of "R.U.R." feel like a quintessential jazz song. Staccato ascensions are furnished by a percussive jam that makes your foot tap. However, in line with the previous tracks, this moment of normality quickly mutates into a polyrhythmic deluge. Alcorn's pedal steel guitar and Halvorson's guitar cavort around each other, eventually homogenizing into an unrecognizable morass. This rhythmic purgatory does not last long. In another twist, the traditional jazz rhythms return. The track grooves off into the distance.
Gdansk was a politically ambiguous city, laying in the Polish Corridor. Gdansk belonged to neither Germany nor Poland. "Night in Gdansk" aptly mirrors the history of Gdansk. It is an amorphous sonic fugue, where the listener is plunged into a state of musical anomie. Time deixis becomes redundant. It does not make sense to say that you heard one instrument 'before' or 'after' another. Don't try to rationalize this track; this track rewards those who let it sweep them away.
"Northeast Rising Sun" provides an apt closing movement. The track harks back to Alcorn's country roots. This song seems to exist only to facilitate, and draw attention to, Halvorson's guitar. Layers of subtle instrumentation provide a framework for Halvorson's erudite playing to be refracted through. Not needing to vie with other instrumentation for priority, the twists and turns of Halvorson's playing become totally lucid.
Comments and Feedback: