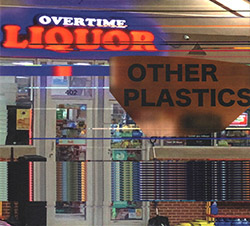 Like exuberant thrift seekers eyeballing a pile of shiny stuff in the trash at an estate sale, Other Plastics asks what about all those sounds you deem unusable? Cables can make a neat noise when split and glued and adhered to battery-powered circuits. Open up that cello and let's see what we can rewire to cause the pickups to freak out if the strings aren't muted. This piece of wood the salmon came with needs a potentiometer, but it's also a nice conductor.
Though billed as electroacoustic improvisation, Overtime Liquor eschews the pensive "turn it on, govern, gently adjust throughout" technique associated with that phrase. "Electronics" duo Dominic Coles and Hunter Brown's work together is fluid, sometimes bratty in its gnashing and unpredictability of when to lean in to observe some sophisticated micro chatter or back away to protect your ears from jarring mixer feedback. At barely over a half hour, the album is a suite of brief freak-outs and a couple long-playing, ever-evolving environments that, while sonically on another planet, invoke the whimsy, oddity, experimentation, and complexity of Anton Webern's compact oeuvre.
The shorter works here are immediate, don't ask much and present more as gestures or exclamations — or "licks" — meaning it's more of a snapshot than a journey. Their nature is skeletal with ample negative space to give the impression of only hearing 40% of a phone conversation. For example, a title such as "Squarepusher" suggests that the listener is in store for a sound bath of resonant bass squall, a hurricane of slap bass and/or at least one obvious Amen break. Here, Other Plastics rip out the drums and bass and squeeze the remains into a mercurial river; recalling Tom "Squarepusher" Jenkinson's history, Coles and Hunter here have captured the man's cartoonish violence and moments in his catalog where he was intent on curdling ear drums.
On the nine-minute "Cold Relish", however, Coles and Brown forge an expansive crumbling world of hiss, charming vintage drum machine samples sporadically firing on a broken timer (think Ikue Mori), a soloist in the form of an overdriven mid EQ who screams until softened with a wash of reverb, what one would categorize as an angry appliance, and so on. With these extended improvisations, the duo employs thoughtful development and exploration to their hack and slash, providing jump scares as they pull you through a maze of bombed-out ruins.
Though there are semantic arguments, all sound is an illusion and it's happening differently in everyone's individual head. However, we nervous humans have filed-down and patterned it, making it easier to digest and catalog as "good." Audio scientists and militant mastering folks dial in a formula that makes you hear an augmented, correcting sheen, not the creaking reality or humidity problems of Yo-Yo Ma's 350-year-old Montagnana cello. Am I uncreatively saying that we've created an out-of-touch relationship with what is music and what is noise and we further perpetuate it by pandering to the status quo? Upcyclers Other Plastics thinks so too.
Comments and Feedback: