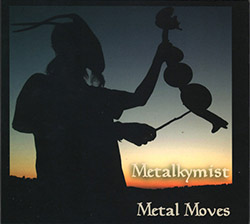 Steve Hubback is a surprise to me. Knowing nothing about him I sought out his web site and saw that his CV is quite a bit longer than my arm. So be it. Primarily a percussionist, Hubback builds/forges his own instruments; variously shaped gongs, cymbals and bells and records ear-catching music with them. The sound on offer here is oft-times reminiscent of Z'ev, with a similar alchemical bent.
"Metalkymist" the opener, introduces his odd sounding metal assemblages, many of which have a strange buzzing that appears as the main tone dies away. The drumming is quick and powerful, culminating in five beats that sound like drums and piano, a surprise chord. This record seems to me to be about the sounds themselves, as every ringing thump and susurrating ring has been cleanly captured. There's quite a bit of rhythmic metal playing, bringing to mind perhaps gamelan with orchestral chords swelling up from underneath. Or cymbalom with wineglass brittle bells overlaying a simple drum figure. Another correlative might be Metgumbnerbone, as there's a definite ritual air to many of these pieces.
The presentation might seem "new age"-like to some, but ignore that and sink your ears into a marvelous sound world.
Comments and Feedback: