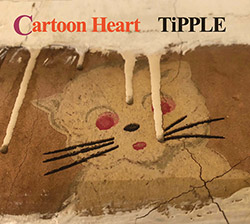 There's no absolute certainty in a reviewer's life. Much less so when dealing with distinguished instrumentalists who produce a record worthy of their skill, but mainly impenetrable in terms of descriptive opportunities. The latest sample of improvisational expertise by Tipple (Frode Gjerstad on sax, clarinet and flute, Kevin Norton on drums and percussion, David Watson on guitar and bagpipes), Cartoon Heart, is an album to scrutinize once, twice, thrice. Even in random mode, relishing the reshuffled components. But, in the end, it's also a classic case of "great, but how should I talk about all this now?"
Perhaps the primary adjective for the trio's unrestrained sagacity is "mysterious". Over the course of fifteen incisive tracks the music keeps refusing connotations, unless we recycle trite definitions like "harmonic abstractionism" (of rather physical matrix, anyway). For sure the players' multi-instrumentalism establishes a highly varied sonic environment. In general, the overall sound is characterized by a conspicuous reverberation, probably indicative of a large recording room. Tipple's research seems to exalt timbral features depicting a somewhat stoned parallel reality. This includes more understated sections; behind a theoretical tranquility, detours from ordinary logic are always an option.
The obsessive analyst is deluded into picking up crumbles of supposed influences here and there, but risks looking foolish in lining them up. There are trance-ful episodes such as "Ghost Ship", Watson's bagpipes creating drones upon which Gjerstad's nebulous flute and Norton's conscious caressing of gongs and vibes float as in a dream. Elsewhere, harmonizers (methinks) are applied on both guitar and winds, thus producing awkward fragments of atonal non-linearity. The opening "Incinerator" could tempt someone to believe in a punk-jazz programmatic declaration. But that feeling disappears at the subsequent stops.
In short, the musicians' experience and independent ardor warrant a semi-anarchy totally deprived of frippery, and rigorously without a net. An idea comes along, is investigated for a while, only to be thrown away almost immediately. The next is completely different, and the program — if there was ever one to begin with — goes on like that, until conclusion. A sometimes disconcerting unpredictability, which at any rate leaves us ready to start all over again, still willing to discover previously unnoticed listening perspectives, new colors, new clues.
Comments and Feedback: