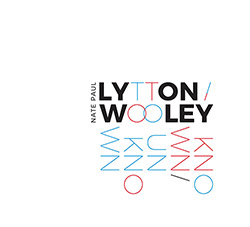 One of the beautiful things about artistic communication is that it can rise above all kinds of divides, including generational and geographic ones. This release by trumpeter Nate Wooley and percussionist Paul Lytton is a case in point. Not only are these musicians a generation apart, they also come from radically different geographical settings, with the elder Lytton having spent a lifetime in London, first making his mark during the London 1960s creative music scene as a percussionist in the Evan Parker trio and other experimental musical settings. Wooley, for his part, grew up in a small lumber town in Oregon before arriving in New York City in 2001 and becoming part of its creative music scene.
The one thing that unites them is their approach to their instruments: both exhibit a knack for coaxing all kinds of freaky and intriguing sounds from their axes and for making sensitive use of textural and interactive exploration. They also share a Cage-ian understanding of how silence plays a part in composition. Listening to this release that unites these two creative musicians, one is treated to a remarkably cohesive musical process with impressive aesthetic results. The two musicians had already recorded together (e.g., with electronics artists Ikue Mori and reedist Ken Vandermark in 2011 on the Clean Feed album The Nows). In this duo setting, however, their mutually sympathetic approaches are clearly evident as the minimalistic use of their respective instruments allows a glimpse at the intimate and introspective workings of their musical imaginations.
The title of the album suggests the nature of the music contained in this 77-minute collaboration, as do the titles of the three exploratory tracks: "Known," "Unknown," and "Untitled." In the first track, there are many recognizable sounds used in a hyper-sensitive and fresh fashion, including trumpet wah-wah mute, drum sticks and cymbals, and many of the simple, fundamental sounds of trumpet and drums that most musicians leave unexplored. The second track includes electronic manipulations of sounds resulting in some fascinating and dazzling effects. The third starts with an open trumpet manipulated in such as way as to almost resemble animal sounds, evoking perhaps the wildlife of the Oregon coast (whales and geese come to mind), counterpointed by a frenzy of percussive colors out of the fecund palette of the improvised music practice Lytton helped define.
These two disparate but uncannily attuned artists have laid out a fascinating and engaging intertwining of talents that makes for an intriguing example of the power of creative music to bridge all kinds of divides.
Comments and Feedback: