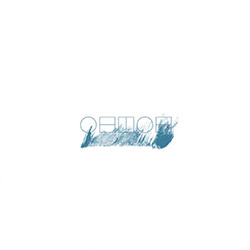 It his hard to know where to start when approaching Rutger Zuydervelt's (Machinefabriek) vast catalogue for the first time. Oehoe seems as good a place as any.
Oehoe contains moments of the electronic psychedelia and sound splicing that Machinefabriek has nearly perfected over the years. But, with Anne Bakker it is so much more than that. She grounds the collaboration. Her vocals and strings (violin and viola) dance with the digital rummaging and post-synth-pop/Krautrock tendencies of Zuydervelt and consistently pull the music back from the outer ether to more earthly terrain. Zuydervelt fights back with his broken circuits and beats, but, even when looped, isolated, distorted, and redeployed, Bakker's contributions keep the music firmly terrestrial and, sometimes, even folkishly and polyphonically medieval. For his part, Zuydervelt seems to be playing with numerous inspirations. One hears patchwork atmospherics, experimental Kraftwerk, juicy but brief new wave melodies, and rich, staticky musique concrete.
If you are familiar with Machinefabriek or Bakker, Oehoe will likely not shock you. Even if you are not yet familiar with the pair, there is little shocking about this disc. Although the music is experimental, it is much more predisposed to calm introspection than vanguardism. It is that concerted push inward rather than outward, that desire to examine their sounds up close, that makes this a fine addition to Machinefabriek oeuvre and a step forward for the Zuydervelt and Bakker, who have been collaborating for several years now. Oehoe is short, but also coherent and it leaves the listener wanting more. It is delicate, but also somewhat rough and hazy. Most importantly, rather than the synthetic layers that normally result from electronics and strings, the music on Oehoe is deeply integrated and strangely organic. The result is an album that is dreamy and spacey but somewhat dark. It sounds, at times, hauntingly ancient, but Machinefabriek's characteristic synth and fragmented sonic imaginary are proof of its modernity, though processed through a 1980s futurist aesthetic. It is a curiosity in time and influence that examines moods and shades rather than shapes and trajectories. And for that, it is all the more compelling.
Comments and Feedback: