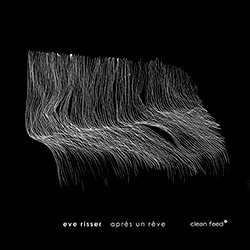 A short-ish solo piano recording by French-born improvising composer Risser, who has been active for the last 20 years, working with orchestras and fulfilling commissions. Her solo work has a shorter history, but you wouldn't know it from the evidence presented here.
The album begins with taut-string flailing and a few deep thumps, overlaid with a romantic sounding chord sequence and weird buzzing and rasping sounds. The upright piano is prepared in a way that gives choices for a myriad of timbre and percussive effects, which Risser employs with a great amount of skill and very big ears. At around the five-minute mark a dry rhythm comes up out of near silence, with a clutch of string bounce and the aforementioned romantic chordal motif. Polyrhythms build up and the whole enterprise starts swinging like mad. I've often read that the piano can be experienced as a whole orchestra in one instrument, and here is proof positive. This really does sound like at least three people playing together very intuitively. The whole "ensemble" builds up and empties out into chordal arpeggios and then quiets down considerably with string strum and dark chords.
Risser was conservatory trained, which is apparent in her touch and careful execution. A section of bright chorded melody is eventually joined by her "rhythm section" again, as humming overtones build up underneath it all. On first listen, I thought surely this was all achieved through overdubbing and was astounded to hear the applause at the end. If there's any doubt about Risser's abilities, you can watch her play this piece on her website. After a dream indeed.
Comments and Feedback: