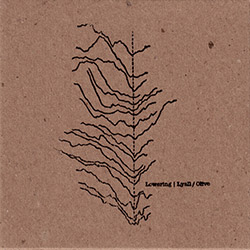 "Heteropia" gives a word to something I'm always trying to describe. A few examples are Cage's Cartridge Music, Lee Patterson's microscopic analysis of burning pine nuts, Günter Müller's three-times-filtered brew of cymbals-through-eight-second-delays, and Tim Olive and various associates' work. Heteropia is not a middle ground between dystopia and utopia but the notion of worlds within a world. These places are self-contained and often have their own language, reality, gravity (or lack thereof), emotional hierarchies, and so on; they can be as simple as a tent, a circus, a submarine, or as complicated as a mirror's reflection (that one still boggles my brain). In the case of Lowering and the above-mentioned examples, the aural localities are without history and representative of themselves, and the listener is coerced into its sonic (mixed in mono) container.
As referenced, Olive has been at the "magnetic pickups" (often with a one / zero-string "guitar") game for a bit; and, through each collaboration, he produces an iteration that is a slight shade dissimilar than the last. Likewise, Montréal-born, Tokyo-based Cal Lyall is an active performer; though less focused on intensified ant footsteps and skronking, he is still steeped in the sound art world via various guitar techniques — some more idiosyncratic than others. Here, the latter opts for multiple underwater microphones (aka hydrophones) to help Olive coax out a placid, understated twenty-seven minutes of music for fishbowls.
Unofficially divided into several blocks, the first chapter begins in a jackhammering of red meter flails. These fade out and reveal a continuous low frequency hum made active with a saturnine shimmer. Dull metallic pings pass over top and are joined with delicate bowing (not sure what is being bowed) that gestates into a layered chorus of harmonics almost ready to burst (meaning get loud); a polyrhythm of clawing (wood, strings) gives the gesture a grounding see-saw. And blam, elision from a snapped spring returns the work to another drone under fidgets and woody rubbing and sawing that realizes as a lion's purr. The duo builds these interdependent pieces from simmer to pause on low boil; vigorous tinkering, a new flavor of electrical chirps, and a looping feedback pulse set in motion stoke the heat back to the level of the introduction. From that, an unnoticed squally mist takes over to grant a few cleansing moments.
After a short intermission, the final eight minutes relish in meditation. Another sympathetic (like a sitar) meditation rocks back and forth while someone occasionally plucks and percussively taps, like gentle, guiding affirmations during a sound bath (it's less New Age than those words).
A criticism of recorded music is that the medium puts the listener in a two-dimensional version of a 3-D world where instruments sound from multiple angles. Lowering would not exist in this context and, in fact, it's closer to putting your ear to a snow globe, or being inside an AM radio receiver.
Comments and Feedback: