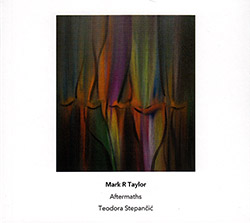 Although the London-born composer and pianist Mark R Taylor is now into his late fifties and has a successful academic career — with past posts at Royal Holloway, London, and Oxford university, and, presently, at King's College, London — it is somewhat surprising that Aftermaths is currently the only easily-available album of his music, a 1992 CD release on the French Do label having seemingly disappeared. Yes, Taylor's compositions have been published, performed and broadcast regularly and he is well respected, but this album seems likely to deservedly take his music to a wider audience and raise his profile further.
The music here consists entirely of solo piano pieces, ranging in length from twelve seconds up to nine-and-a-half minutes; the twelve-second piece is actually part of a continuous sequence of eight short preludes which run together as a coherent performance lasting over seven-and-a-half minutes. Although Taylor himself is an accomplished pianist who has played (and composed!) since the age of four, the pianist here is the Brooklyn-based composer, curator and performer Teodora Stepančić, who became interested in Taylor's music after a recommendation from composer and FURT-member Richard Barrett, an acquaintance of Stepančić's when she was studying piano and composition in Belgrade. Taylor says that his work with Stepančić encompassed a whole spectrum down to the level of individual chords in some cases, but there were entire pieces where he did not interfere, simply trusting her to do what she wanted.
The end results show the wisdom of Taylor's trust in Stepančić, as she consistently delivers performances which demonstrate the appeal of his music. The works featured here cover a period of almost forty years, from "Lijn" (1979) through "For Mark Hulson V" (1997) and "Aftermaths" itself (2014) right up to "Moments Musicaux Book 4" (2015-18); sensibly, they are not programmed chronologically but shuffled, thus revealing the consistency of Taylor's work over the four decades. Heard straight through from start to end, it is practically impossible to detect any radical stylistic shifts, thus making this a pleasantly consistent fifty-six-minute listening experience. A typical piece consists solely of chords separated far enough apart so that each is heard clearly, without any gratuitous silences or unexpected twists or turns. Initially, the music is very easy on the ear. However, that should not be taken to mean it is easy-listening or wallpaper music. While it is music that could "just be there", the more time and attention is invested in listening to its subtleties, the more it repays. As such, it can be unconditionally recommended to aficionados of piano music of any genre.
Comments and Feedback: