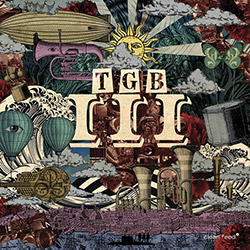 TGB stands for Tuba, Guitarra & Bateria (which is Tuba, guitar, drums in Portuguese). This band is big on chops, rhythmic drive and melodic inventiveness, in compositions that are as playful as they are serious.
The fun comes in the tone of the tunes, which ranges from a meditative vibe, as in "Red Manalishi", to a light pop-ishness in "Sete Portas Mal Fechadas," or the strutting cockiness of "Knife to Meet You." That and the instrumentation, with the funky bass lines of Sérgio Carolino's tuba, the bouncy rhythms of Alexandre Frazão's drums and the tasteful shredding of Mário Delgado's guitar. The complementary seriousness is in the deep musicality that is evident in the subtle and precise twists and turns of the 11, mostly original, tracks that are melodically engaging and rhythmically compelling. But there are also lots of reflective moments.
Delgado's guitar makes use of slide effects, distortion, and a clean sound, reminding one of the palette of guitarists like Bill Frisell or Eugene Chadbourne, but with an element that is Delgado's own in the note choices and the timbre which at times rings like delta blues at others like Joe Morris's creative single line playing.
Carolino's tuba playing is impressively sinewy and versatile, as he runs tight funky lines, navigates wide leaps effortlessly and plays some nice plunger effects in "Duelo", in particular, sounding almost like an electronically processed sound. He can also play the deep pedal register comfortably and meaningfully, then, skip around the upper reaches as fleet as a leprechaun high on life.
While the guitar and tuba hold their own and provide essential material to the group sound, the trio hinges on Frazão's hyper-tight drumming, whether in the gentle brush work of "Waits a Moment" or the prog-rock rolls and fills that surge often in the several tunes, like the crisp stop and start passages in the fiery, aptly-titled "Flint."
In this, their third album, the band sounds super-humanely tight and at the peak of their creative talents.
Comments and Feedback: