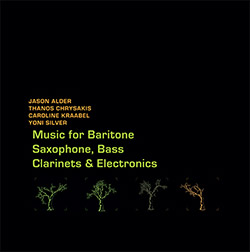 I look back smiling at my initial correspondence with Thanos Chrysakis: a polite swapping of points of view in regard to an earlier Aural Terrains release I had not found entirely fulfilling at the time. Over the next ten years or so, the imprint has established itself as a "silently serious" repository of sonic inspections, frequently involving Chrysakis with esteemed representatives of diverse areas of improvisation.
In this particular symposium the label honcho operates a laptop plus synthesizers, whereas his cohorts furnish the music with the strictly physical pneuma. The exact subdivision of the remaining roles reads: Jason Alder on bass clarinet, contrabass clarinet, clarinet in B♭ and clarinet in E♭; Caroline Kraabel on baritone saxophone and voice; Yoni Silver on bass clarinet. In terms of overall sonority, we're in the "small electroacoustic ensemble" realm, halfway through lucid dreaming and scientific coldness. The five tracks highlight a keen interest in the scrutiny of molecular interstices, successfully amalgamating components of dissimilar origin. In the numerous spots where droning matters, vibrating reeds and vivid upper partials converge, an organic juice rich in cerebral nutrients starts flowing inside the listener's ears. The latter have no problem whatsoever in identifying and connecting microscopic shards of tone from collapsed phrases amidst the morphing of Chrysakis' acousti-chemical creatures.
Quite strangely, the unscripted materialization of a structure of sorts makes one conceptualize about pre-agreed compositional coordinates that, most probably, were not even hypothesized. Ultimately, we perceive a cross of professionalism and mental opening, the musicians governing every nuance of their emissions while keeping the aerials up in case of new signals appearing from the galaxy of the serendipitous. Those familiar with AT's methods can sleep tight; should an unwarranted juxtaposition be required to persuade the still doubtful, also think "Mikroton spirit".
Comments and Feedback: