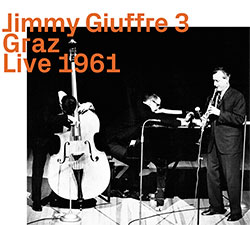 Before getting on to the specifics of this album, several things need to be spelled out clearly: firstly, this trio — Jimmy Giuffre (1921-2008) on clarinet, Paul Bley (1932-2016) on piano and Steve Swallow (born 1940) on double bass — was one of the most important and influential ensembles in the history of both jazz and improv, despite being misunderstood and unjustly maligned by some US commentators at the time; secondly, any recording by this group should be considered essential listening for anyone with an interest in jazz and/or improv; thirdly, the trio's complete 60's recordings have consisted of three studio albums, Fusion (Verve, 1961), Thesis (Verve, 1961) — these Verve albums were reissued together as the double CD 1961 (ECM, 1992) — and the classic Free Fall (Columbia, 1963) plus two live albums, Flight, Bremen, 1961 (hat ART, 1992) and Emphasis, Stuttgart, 1961 (hat ART, 1993), reissued together as Bremen & Stuttgart 196 1 (Emanem, 2016).
Now, to those five albums we must add this release, Graz Live 1961 on the Ezz-thetics label, courtesy of the Hat Hut organisation and permission from Juanita Giuffre, some ten years after the death of her husband. Previously issued on two bootleg records of dubious quality, the music here is all on one seventy-five-minute CD with impeccable sound quality throughout. Recorded live in concert on October 27th 1961, this Graz recording pre-dates those Stuttgart and Bremen recordings by some weeks and, more importantly, its eleven tracks include concert recordings of five pieces not featured on either of them. The first of those, Carla Bley's "Ictus", was the opening track on Thesis and fulfils the same role here. Straight away, it sets the pattern that is common to much of this trio's music, with the composition's theme being played straight as an intro to the piece, before all three players launch into free improvisation. The three do not operate like a jazz trio, with piano and bass acting as support for a lead soloist; instead — through experience together and impressive listening skills — all three of them effectively solo all the time, miraculously managing to weave the three strands together into coherent, integrated music.
When they repeat the trick on "Brief Hesitation" (from Fusion) it becomes clear that the three could improvise together all night and make it sound as effortless and natural as breathing. With that piece clocking in at four-and-a-half minutes, compared to three minutes for "Ictus", their economy of thought and effort is an example from which many other improvisers could learn. But, when they need to stretch out, they are relaxed enough to do so, as demonstrated by a ten-minute version of Giuffre's "Cry, Want", considerably longer than versions of the piece from Bremen and Stuttgart. As with this group's other albums, it is futile to try and name outstanding tracks, as everything they played is hypnotically beautiful and still sounds timeless decades after it was recorded. Graz Live 1961 deserves to be recognised as a classic.
Comments and Feedback: