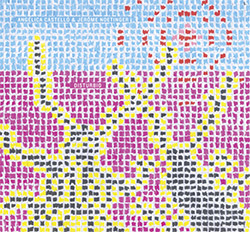 As there is so much we could discuss about these veteran players, their instruments, and the palette of Disturbio, I will give a high-level view so as to not wax on too long about / overemphasize the importance of any ingredient over another:
• Angélica Castelló: Born in Mexico, lives in Vienna, professor and electroacoustic (heavy on the acoustic) composer, electronics maven, Paetzold performance extraordinaire

• Paetzold: An instrument based on the Renaissance bass recorder. It resembles a large, wooden periscope mated with a stilt — or mutated goose neck — is capable of very low tones, and is often (boringly) employed to double clarinet an octave below. Notable performers include Castelló and Anna Petrini

• Jérôme Noetinger: One of the greatest living mystics of sound mangling. He has run the gamut in the composition and improvised performance world, and continues to tweak and get mileage out of his bag of tricks. His current set-up of crumbling feedback and crackle effects features a Revox A77 tape deck as it's keystone, the latter enabling real-time manipulation, live looping and staccato-to-elongated aural torrents

• The Revox A77 reel-to-reel player / recorder: Once relegated to "swinging bachelor pads," the A77 is referred to by audiophiles as "The Rolex Oyster of tape decks." It was a bit cheaper than some of the studio standards, but can physically endure much more than some of the less sturdy counterparts. I don't think any of that has any bearing on this music, but you can read more here if you are so inclined.
Anyway, the electroacoustic / post Cage / free improvisation domains usually adhere to one or all five of the following: Construction, destruction, a combination of the previous two, dissection, and / or observation. In the case of Disturbio, the field is already laid to waste; we're stepping in after an unresolved coda where whatever sudden catastrophe caused the collapse lingers and continues to impede renovation; but there is a sub-dermal environment squirming under the debris, attempting communications that are squashed before reaching the surface or a first responder.
Okay... Remember the robotic mice from Ray Bradbury's There Will Come Soft Brains? Their job was to prepare food and clean up after any mess in the this-is-the-automated-future-per-1950s-predictions home; they continued to do so despite the disintegration of their masters, even pressing on while losing bolts and limbs to the house crumbled on top of them. They continued to wiggle. That's the telepathic mental image of the sonic world Castelló and Noetinger navigate and deform.
A blend of broken, distant television and radio broadcasts mingling with grumbles, fried circuits, twitching held notes, gravelly footfalls, staccato exhales, whistles, tape spinning and winding, and otherwise percussion guides this narrative. Would you prefer pink noise, gentle rumbles, and the synthetic clone of someone massaging a balloon? Gradually pour in hissy bird call recordings that surf on some type of Doppler effect and patiently move into an intricate, complex chord, a combination of AC hum, shimmering squeals, ocean noise — like a Buddha Machine designed for bigger, advanced brains. Can the foreground sometimes emphasize the broadcast voices, or popular songs, or opera snippets, or Spanish exorcism prayers? Could you add some subtle idiosyncratic reminders that the recorder that eats clarinets and bassoons for breakfast is also participating (i.e. wheezy humming, wooden grinding and sawing)? Cloudy feedback loops and the players real-time sample each other too?
Tangled, right? Not really. There is a lot of disparate elements firing on Disturbio, but a thoughtful progression and micro placement keeps the works hypnotic, slightly adhesive, mysterious, playful, not physical engulfment and desensitization into boredom.
Comments and Feedback: