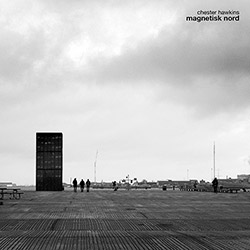 Chester Hawkins sculpts sound. Yes, many an electronic/experimental musician cops to that m.o., but how many truly make it sing? Still a little-known presence on the avant axis, but unlike his more prolific brethren, Hawkins makes every little bit count. He has a clutch of solo recordings to his name(sake), and also lets his freak flag fly as Blue Sausage Infant, so a novice he ain't. It's simply that Hawkins seems to consider his paintbrush and sonic palette very carefully, bent on taking a meticulous approach to composition rather than just throwing tones at the wall to see what sticks; his recordings are a veritable wealth of ideas, realized with the well-established tools of synthesists worldwide while also incorporating the more modern means of adroit sampling, numerous desktop modules, various unidentifiable aural agitators, and a good deal of delightful digital signal processing.
A single uninterrupted piece, Magnetisk Nord spills out over a very finely wrought 53 minutes. As the piece begins, shortwave radio voices make their announcements formal if unintelligible, vocal gossamer that ushers in a few iris-ing and undulating moog-drones. As time gradually becomes unmoored from any chronological reality, the drones take on an ever-widening horizon of color that tastes slightly metallic to the tongue (and ear). Hawkins literally luxuriates in these near-beatific updrafts, but he's not content to beckon the nu-age or float on seas of ambient reverie. While anyone listening to this would hardly confuse it with, say, Eno's ergonomic stillness, Hawkins relishes in creating various substrata that keeps one interested and on guard. Ten minutes in and the listener awaits the inevitable crescendo (tonal shift? blast of noise?) but it's a moment that never comes. Instead, Hawkins continues to open and lead us through a series of different doors to see: strange, crepuscular sprites shrieking animatedly in the background; the fly-by engine whoosh of ghost aircraft; muted trumpet contrails; the quickening of subterranean pulses. This is by no means a static music — changes, unsubtle and otherwise, occur, and the drama that unfolds with them is all too real, palpable, and revealing.
What keeps Magnetisk Nord so consistently fascinating (and eminently listenable) are the subsequent changes in texture, sequences that belie abruptly altered psychological states, crafted from analog sleights-of-hand in their most expressionistic poses. It's all riveting stuff, Hawkins's stark imagination captured in bold base relief. You come away thinking that, yes indeed, it's true: the man sculpts sound.
Comments and Feedback: