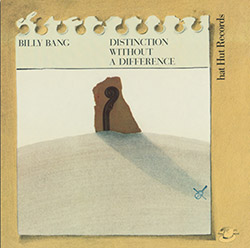 Inventiveness pure and simple (and sometimes not so simple) characterizes this reissue on the Corbett Vs. Dempsey label of one of violinist Billy Bang's solo sets from the late 1970s.
An alarm-like "Improvisation for Sweet Space" opens the set. Long lines, full of twists and turns take us traveling. The Vietnamese-inflected theme in "Part of a Distinction without a Difference" and then the pizzicatos with languorous, post-romantic adagio statements in "Sometime Later" show what range of imagination Bang brings to the music in improvising variations on rhythmic and melodic motifs.
Bangs (who left this world in 2011) was drafted into the US army and saw combat in Vietnam in the mid-sixties. Upon his return to the U.S., he became a political activist, which in a storybook moment took him back to the violin, which he had played in his youth. His war experience and the sounds he heard while in Vietnam were subsequently significant parts of his vocabulary, articulated explicitly in two albums, Vietnam: The Aftermath (2001) and Vietnam: Reflections (2005), both released on the Justin in Time label. The latter release included Vietnamese musicians.
The Vietnam experience is palpable in Distinction Without a Difference, which contains material originally released in 1980 on HatHut, namely tracks 1-6. Those and track 10 of this expanded 11-track offering were recorded by Peter Kuhn at Gaku Gallery, New York, August 12, 1979. Another four tracks added to this reissue were recorded by an unnamed engineer in Tilberg, Netherlands, Oct. 29, 1978. On this, as on the original releases, the cover photo is by Joe McPhee.
Vietnamese and American materials are bridged clear in "Theme for Masters" which opened side B of the original album, as Bang twirls folksy down-home themes and far-eastern strains showing a strikingly universal link between them. These he articulates with western classical/new-music technical precision, with powerful tremolos and lilting lyricism reminiscent of Aaron Copeland, but always the genuine rawness of Bang's sound balances the polished technical playing, and one serves the other.
A wild, romping multicultural "Skip to my Lou" closes the set of the original album, a live take with excellent sound quality — almost studio-like, given the hyper attentive audience.
The first of the "bonus tracks" is "Prana," a meditative hymn. The tracks that follow have a more reflective mood, although some of the same themes arise — tales of friction expressed in the harsh Spiccato arcs of sound, the tearing percussive blasts, pizzicato interludes, followed by a sky-blue legato peacefulness.
Comments and Feedback: