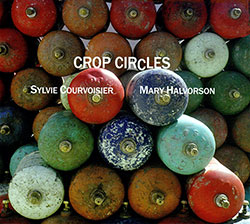 These two improvising masters need no introduction and both have a strong body of work in all kinds of settings, from solo to large ensembles. Their collaboration dates back a few years, so this recording is not a once-off without a past. The dazzling music that this album contains is obviously the tip of an immense iceberg that has been floating for some time.
Crop Circles is an interesting title for this album, which presents 10 pieces structured in a circular manner, not unlike jazz standards of old: head, improv, head, with some tight part writing and thematic interludes woven in. And what heads we get! And what improv!
Halvorson's guitar work is impeccable. She is at the top of her form, twisting and turning in thematic exchanges with Courvoisier, as in the insistent quirkiness of "La Cigale," a tune that seems based on the chirping of cicadas, as signaled by the title. The same kind of things happens in "Eclat for Ornette" and "Woman in the Dunes." The plonking rhythms of "Water Scissors" also work in this interesting way, as short runs and micro-motifs are articulated and bounced around, turned inside out, upside down, and backwards.
Courvoisier's sotto voce piano chords in "Aftershock" recall some soothing Satie moments. This is mainly her tune, with Halvorson plucking some well-chosen accompaniment figures. A similar aesthetic reigns in "Absent Across Skies" but here Halvorson's guitar plays a more prominent role with some wonky effects, echoed by some piano string plucking and scratching and contrasted by some long striding piano chords. A similar mood pervades "Your Way," but with a more pacific, gossamer character.
The duo romp through "Downward Dog," a piece set in motion by a rollicking figure from the piano which then tumbles with the guitar in tightly accentuated contours. The magic of this piece is in its slow but dramatic evolution, like watching a late afternoon sky fill with clouds then watching the clouds dissipate and the evening sky come on.
A painterly analogy is an apt one, as these 10 pieces each shine like portraits of different kinds of emotions, concepts and experiences. The masterly manipulation of sound is at the core of it all, of course, the result of the bold and sure strokes of these two remarkable contemporary musician-composers.
Comments and Feedback: