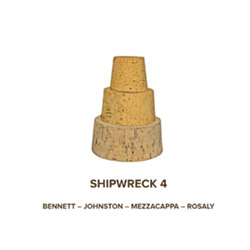 A piano-less quartet offers up a mixture of freebop and extended technique wrangling. "The Storm We See, The Sea We Saw" trots out with beautiful free drum and bass advance, not so much marking time as moving forward in an excited but subtle way. The horns (Aaron Bennett-tenor sax & Darren Johnston-trumpet) add a knot of lines and sputtering notes that hang over the rough and tumble.
Much about this initial foray reminds me of old ESP records-the space and pace of the whole seeming very relaxed and playful. "Counted Like Flies" is more staccato, becoming a funky march with braying horns. Drummer Frank Rosaly has an amazing way of implying time and tempo without actually stating either. His playing shifts easily from drums-as-drums sounds to odd knocks and washes of buzz. Witness his short clattering solo on "Everything's Coming Up Rosaly". Bassist Lisa Mezzacappa provides a rich tone and nimble pizzicato, at times leading the horns harmonically. After the wind-up the ending seems perfectly tailor-made.
"Bloom" sets out with unaccompanied horns, playing what sounds almost like composed lines, a short herald to open a longish exploration of approach. The tumble and rasp amp up and fluoresce into a busy heap of horn-led goo before Rosaly inserts another click and pop solo. On the whole, an interesting well recorded modern blowing session.
Comments and Feedback: