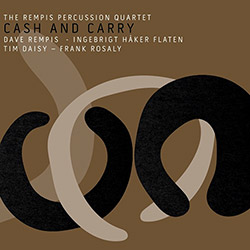 Recorded at Chicago's Hungry Brain venue in late 2014, Cash and Carry is an excellent snapshot of the dynamic Rempis Percussion Quartet 10 years deep into their existence. This group consists of namesake Dave Rempis on reeds, Ingebrigt Haker Flaten on bass and omnipresent drummers Frank Rosaly and Tim Daisy. When I first listened I didn't realize this was live until some spirited audience members' voices appeared during a particularly uproarious passage. It simply sounds fantastic- clear and intimate.
"Water Fowl Run Amok" charges out of the gates full speed with a Coltrane-esque broken, spiraling overblown sax. Think "Stellar Regions" by Coltrane and you are close...an intense mass of sound-energy in full flight. This is a lengthy track, however, and it moves through many moods in its nearly 40 minutes. The melee subsides leaving bells and clanging batterie in a barren landscape of arco bass and strangled embouchure. The ghost of Albert Ayler suddenly appears as Rempis vocalizes his sing-song lines in tandem with guttural smears of bowed bass and simmering, free drums. Next a disjointed funk groove pushes us along for a few minutes before Ayler's shadow re-emerges.
"Better then Butter" is the second track and begins with a clattering of rims that eventually opens up with Rosaly and Daisy using brushes and kalimbas under Rempis' fluttering sax lines. The bass anchors the improvisation with sputtering staccato and buoyant lines. The group really starts cooking as Haker-Flaten builds an ostinato with the drums joining in, collectively gaining momentum with each passing bar. Rempis rides atop, alternately echoing the rhythmic force beneath him or spinning slower melodic lines.
This record is a testament to Chicago's long-standing legacy as a creative epicenter of musicians. Extremely musical and enjoyable, Cash and Carry is a must hear.
Comments and Feedback: