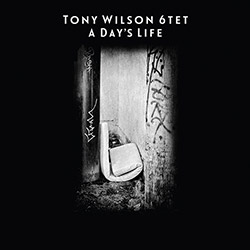 The moods are plentiful, varied and kaleidoscopic, on this release steered by composer-guitarist Tony Wilson. Although it is a sextet effort and the contributions of everyone involved are significant and distinct, the voice that comes through is unequivocally Wilson's. Not unlike his solo outing (Horse's Dream), the music here is a document of ideas sprung from the head of the composer. In A Day's Life he references, as the press release notes, "his 2012 novella, A Day's Life, a raw fictional account of a day in the life of a crack-addicted musician who lives and busks on the streets of the Downtown Eastside."
We are also told that "while not autobiographical, the novella and the music have been lifted largely by the guitarist's experience living on the streets of the Downtown Eastside during a few particularly difficult months of his life in the mid 90s. "
Given the programmatic description, one understands the vacillation that goes from the easy-going opener, "A Day's Life," to the noise of "Not All It's Cracked Up To Be." The album is made up of such polar shifts, with dreamy, translucent melodic writing and playing in a piece like "The Laundry Room," frenetic effusion in "It's about That Time," and punchy and liberating punk-like "no future" riffs in "The Train Keeps Rollin." But through the suite of 12 tunes there are many idyllic moments, as in the beautiful "Bobby Joe's Theme," so stately melodicized by cello, interweaving with a silky violin and a warm open trumpet.
The musicians, we are reminded in the release notes, are some of the finest improvisers in Canada "brought together especially for this project: JP Carter on trumpet, Jesse Zubot on violin, Peggy Lee on cello, Russell Sholberg on bass and Skye Brooks on drums." The blend of voices, all unified to convey Wilson's themes, is remarkable. Such distinct players could easily dilute the intimate, personal tone needed for the purposes of the music at hand, but the band plays to the compositions and in the process we get a collective intimacy that is truly touching.
The compositions are quite remarkable, with writing that draws on language derived from rock, jazz, pop, contemporary classical, musique actuelle — if one wanted to affix labels — but really it's all just Tony Wilson doing what he does best: composing interesting, engaging music, whether it is tightly orchestrated passages or very loose structures for open improvisation.
A final note: Wilson's guitar style is one of the most eclectic and un-hackneyed out there. Many poll-winning guitarists (you know who they are) get by on a much narrower imagination than this guy is capable of, with his gift for lyrical and incisive musical expression.
Comments and Feedback: