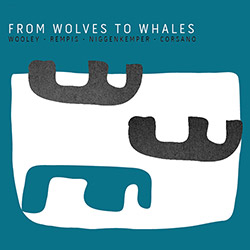 If you haven't read it, go find the interesting AllAboutJazz interview with saxophonist Dave Rempis titled "Communication, Improvisation and No Screwing Around." Also, after a few listens, you will also note that this is a fairly fitting summary of Rempis's performance with this crew of Nate Wooley (trumpet), Pascal Niggenkemper (bass, preparations) and Chris Corsano (drums, a whole lot of stuff) on From Wolves to Whales: the players are entwined with each other, grounded in the moment and purposeful throughout despite the "free" nature of the music.
As if building a bird's nest, the quartet begins "Slake" with a few unassuming twigs (mouthpiece squeaks, key clacks, puckering whispers) and slowly multiplies until a form takes shape. Corsano's subtle rattles and temple bell meet Niggenkemper's prepared bass method (i.e. metal heat lamp covers placed in / striking strings). Gradually, the chiaroscuro brightens and we're in a minor groove, and now a major swing — and then a white-hot bombast. Wooley and Rempis trade back and forth with fractions of a second rests between gestures before blasting each other; the work peels back near eight minutes for Niggenkemper's wild ride of dizzying bow slide ascents and descents. All four engage in a stuttering, out-of-breath texture and return back to the pp darkness of slight feedback, finger-tapping and shimmering overtones.
WRNC repeat this recipe, but the results are never quite the same. Rempis writhes during the intro of "Serpents Tooth" as Wooley gently wah-wahs, Niggenkemper cajoles oversized jaw harp buzzes out of his instrument and Corsano gradually increases the volume (both aurally and physically) of his mayhem of snare and cymbal rolls while driving the tempi. On "Swingin' Apoplexy", the mix moves from Hoedown to Pointillism to post-rock to steamy, Saturday-night-on-a New-York-stoop, make-out jazz.
"Count Me Out" features a delicate-to-violent Corsano / Rempis duet in the style of Ali / Coltrane before Wooley and Niggenkemper throw themselves at this Autobahn speed race, demonstrating the group's secret power: on top of sonic creativity, they're all really, really(!) technically adept and lithe. Across the whole album, the witness of learned and "unlearned" supernatural skill is almost irritating (at least to us who wish we had these chops).
There are many artists who adhere to the "let's lie back with mysterious sounds, now let's boogie!" aesthetic, but these guys are careful and organic in their approach and musical outcomes. No screwing around, indeed.
Comments and Feedback: