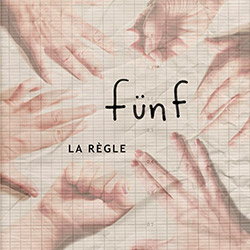 I recently had a debate about recipes. Someone presented the idea that following a script with exact precision is how we ensure success. I countered that, sure, this can be true, but think about all the people who break the rules and improve upon the process. "Well you have to know the rules before you can break them." Touché, but what if there are no existing guidelines for a particular design? That's how Fünf seem to work, as their electroacoustic / concrète fusion is — so to speak — no cake or lamb shank you've ever sampled.
Here are the ingredients:
Magali Babin: Performer (amplified objects, tape deck, nebulophone, field recordings)

Andrea-Jane Cornell: Performer (amplified objects, field recordings, accordion, loops and voice) Martine H Crispo: Performer (circuit bent toys, iDensity, electronics)

Anne-Francoise Jacques: Performer (rotation, objects, amplification)

Émilie Mouchous: Performer (analogue synthesizers, electronic fabric)

Erin Sexton: Performer (oscillators, electromagnetic fields, microphone)
Mix these thoroughly until each performer is unrecognizable "between two residential basements on Berri Street, and live on a campus-community radio station from 2011 to 2014," and don't include everyone at the same time on each piece. The end result is a seamless production of delicate splendor.
Beginning with "Chaleur", the group introduces an alien communication of reversed spinning plates and ghostly feedback and drones; suddenly, an aural door opens up, and the track is grounded in a lo-fi hiss, snippets of tonal "music" and sputtering circuits. "Aimes-tu ma porte?" features a rhythm bed of camera flash power-on, a cymbal neutered of its attack and the muddled rumbling of Jacques' "rotating surfaces" (check out her wonderful toys here). On "The Name's Name", telephone busy signals mix with a chuckling German couple and manipulated airy wisps. Synthetic blips, purrs, pings, flicks and growls push alongside high heel footsteps on "Girl in the Vague"; as those begin to relax and fade, a cat in the distance begins to yowl, capping off the piece with a spooky coda.
The most ambitious work, "Retenue mystique", settles over a flock of humming ambience that comes and goes, providing a somber backdrop for nervy mechanical squeals, thick swells of vowels (think Ligeti's Lux Aeterna), sinister rasps, a Dopplering monologue and occasional synthesizer blips. The whole thing together makes your body and mind sway until the booming, electrical charge misfires of the appropriately named "Loud Operetta" break the meditation.
La règle belongs in the same world with sonic sculptors Jason Kahn, Tim Olive, Norbert Möslang, Toshimaru Nakamura, The Lappetites etc., but, as previously mentioned, there is something curiously unique about the music. Perhaps it is the group's patience, economy of sound, tidy frequency choices (i.e. keeping the highs paired with lows à la Stravinsky orchestration for a clear listening experience) and insistent, unresolved tension. Regardless of secret spices, the members of Fünf create music that warrants a binge.
Comments and Feedback: