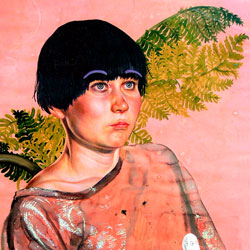 The remarkable text-based work that Italian composer and conceptualist Alessandro Bosetti has pursued over the last seven years or so has taken a number of shapes. He has done striking pieces for German radio, has recorded Robert Ashley with Ergo Phizmiz and Bill Evans with Chris Abrahams, and has released a string of albums furthering the ideas of isolating the melodies of speech advanced by Ren้ Lussier and Steve Reich. His work has taken a variety of approaches, but the rockish band Trophies has been the primary — and often most enticing — vehicle for his musical utterings.
The trio (with Kenta Nagai on guitar and either Tony Buck or Ches Smith on drums) gained notice with the 2011 debut Become Objects of Daily Use and explored similar ground with the less noticed A Color Photo of the Horse later that year. The song structures on both records are built around Nagai's nimble guitar playing and his precise mirroring of the thick blocks of text delivered by Bosetti more often than not with an air of urgency. Behind that dual attack, a harmonic bed of tones emanates from Bosetti's laptop while drum rolls fall in sheets like punctuation marks looking desperately to be placed.
That dynamic more or less holds fast on their third release, You Wait to Publish, although the band — in its way — sounds more relaxed this time out. There is, rather surprisingly, an instrumental cut here, and the opening title track is almost a shuffle. The familiar contained panic is present, however, in "What Happens to Break this Cup?" (perhaps the album's high point) but the album closes with "Imperial Bath," nearly a ballad or at least uncommonly subdued.
The band has found its stride, at least in part due to a considerable amount of touring, and has more concerts and recording planned for the fall. While it continues to be pushed by Bosetti's unusual ideas for composition, Trophies is excitedly developing a forceful group dynamic.
Comments and Feedback: